Mesa, Arizona, Shooting: Ryan Elliott Giroux Arrested For Rampage That Left 1 Dead, At Least 5 Injured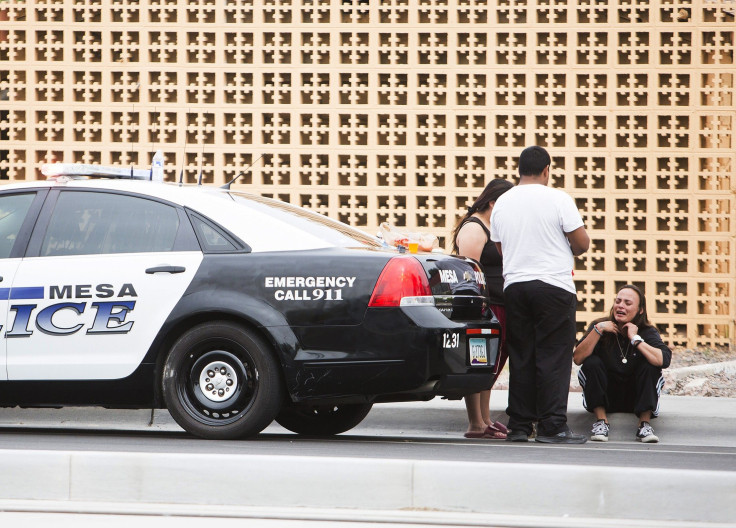 Authorities have captured a suspect in connection with a string of shootings in Mesa, Arizona, Wednesday that left one person dead and at least five others injured. The suspect, identified as Ryan Elliott Giroux, was found in an abandoned condo near the street intersection of Emelita Avenue and Longmore shortly before 1 p.m. local time, the Arizona Republic newspaper reported, citing a Mesa police source.
Police were going door to door on the 1700 block of West Emelita Avenue when they spotted the suspect, who was described as a bald, white male in his 40s with a visible neck tattoo and wearing a gray shirt with black pants or shorts.
The suspect subsequently was tasered and taken into custody in a white jumpsuit, which is typically used if police need to preserve evidence on the person's clothing, according to BuzzFeed News.
A Mesa Police Department spokesman initially told the Arizona Republic that the department had confirmed at least three shooting scenes, but there could be as many as five or six. All of the scenes are believed to be connected to the same gunman.
Gunfire rang out in Mesa around 8:45 a.m. local time at the Tri-City Inn on Main Street, where three people were shot in a motel room, one of whom died. Authorities believe the suspect had an argument with one of the victims.
The shooter fled to a restaurant near the neighboring East Valley Institute of Technology (EVIT) before stealing a car and traveling to the Emelita and South Longmore area, where he shot two more people, including a student, the Arizona Republic reported.
EVIT and other nearby schools subsequently were placed on lockdown. A SWAT unit also was on the scene assisting the Mesa Police Department, according to KNXV-TV in Phoenix.
© Copyright IBTimes 2023. All rights reserved.