Mexico City Continues To Witness Clashes Between Police And Protesters Over Missing Students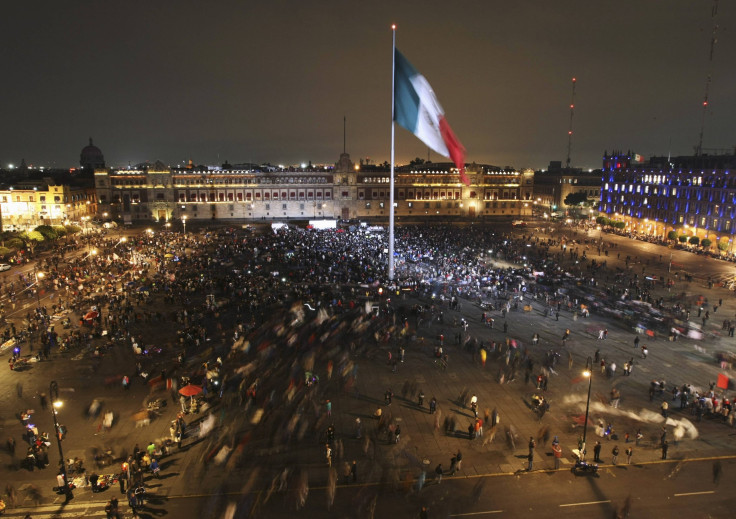 Clashes continued in Mexico City late Thursday as thousands of people took to the streets to protest against the country's handling of the disappearance of 43 students, who went missing in September, BBC reported. The students are suspected to have been killed in the country's long-running drug wars, which have claimed the lives of thousands over the years.
The mass protests, which began early Thursday, marred planned celebrations to mark the ouster of dictator Porfirio Diaz in 1910 during the Mexican Revolution. Instead, officials reportedly used tear gas to control violent demonstrations where protesters threw rocks, fireworks and Molotov bombs at police. Three larger protests, in which thousands were expected to take part, were also scheduled to be held in the city later on Thursday, according to Deutsche Welle.
"It's not just 43 disappeared people, it's thousands -- and among them is my daughter," Beatriz Aguilar, a protester, said, according to Bloomberg, adding: "Now she would be 29. She is 29. I'll never give up hope."
The students, who were training to be teachers, disappeared in September from Iguala, about 119 miles from Mexico City. Since then, police have found several mass graves around the region containing charred bodies. While officials continue to conduct DNA testing, so far none has matched those of the missing students. Police officials have also said that there are strong clues hinting that the students are already dead. Protests have continued since they went missing against the handling of the case by local and federal officials.
"The federal government has been the first to be in solidarity with the pain that's been caused by the disappearance," and has undertaken an exhaustive probe of the incident, President Enrique Peña Nieto said on Tuesday, according to Bloomberg, adding: "The protests at times aren't clear in their objective. They would seem to respond to an interest in generating destabilization, social disorder and attacking the national project that we've been pushing forward."
Maria Teresa Perez, whose son is missing, said, according to The Associated Press: "They are shouting about 43, but they should be counting in the thousands, because apart from these 43, there are 33,000 disappeared." The report added that the country officially counts 22,322 people who have gone missing since 2006.
Drug-related violence has gripped the country and, since 2006, and nearly 70,000 people have been killed in drug wars, Bloomberg reported, citing a local newspaper.
"It's been almost two months without knowing where they are. We don't know anything and we're desperate," Francisco Lagro, the father of a 19-year-old missing teenager, said, according to BBC, adding: "What are they doing? In what conditions? Do they get any water or food? Are they tied up? We have so many questions."
According to some reports, local police are alleged to have kidnapped the students on the orders of the town's then-mayor José Luis Abarca and handed them over to the Guerreros Unidos, a local gang, with whom the police and mayoral couple are suspected of having close ties. The couple had fled the city since the students went missing, and were caught and detained earlier this month, Bloomberg reported.
© Copyright IBTimes 2023. All rights reserved.