Miami Heat Star LeBron James Dunks All Over Celtics' Jason Terry [VIDEO]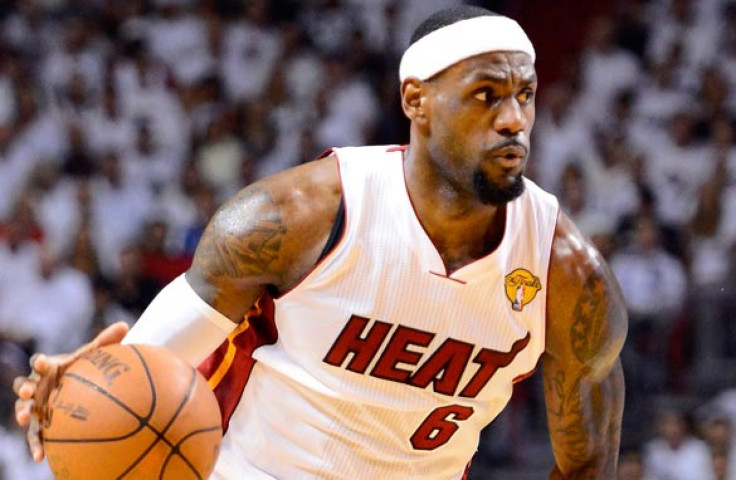 Miami Heat superstar LeBron James is considered one the league's most ferocious dunkers -- a fact that Celtics guard Jason Terry found out the hard way on Monday night.
The monster dunk occurred during the second quarter of the Heat's intense battle with their long-time Eastern Conference foe, the Boston Celtics. Terry had just turned the ball over to Miami's Dwyane Wade, who set up a series of passes that culminated in LeBron's thunderous alley-oop dunk.
By placing himself directly in LeBron's path, Terry found himself on the wrong end of a 6-foot-8, 275-pound freight train. James threw down the highlight-reel finish from well above the rim, before triumphantly lingering over the splayed body of his fallen foe. James was immediately hit with a technical foul for his taunting, but the damage to Terry had already been done.
For NBA players, "posterizing," or forcefully dunking over a would-be defender, is considered the ultimate embarrassment of an opposing player. Most basketball fans are still attempting to process a similar example that occurred on March 11, in which Los Angeles Clippers 7-foot center DeAndre Jordan dunked all over Detroit Pistons guard Brandon Knight. However, instead of drawing a technical foul, Jordan was actually awarded a foul shot after his posterizing slam.
While Jordan's dunk was considered a lock for "dunk of the year" honors, LeBron's latest effort may give it a run for its money. After witnessing James dunking all over Terry, Jordan took to Twitter to state his approval:
After the game, James reacted to Jordan's compliment. "If (Jordan) said touché, it must have been pretty good," James said during his post-game interview. "I saw Jason down there. I guess he didn't see me."
For James, the massive dunk was just one of many reasons to celebrate. The Miami Heat managed to rally from a 17-point deficit to defeat the Celtics 105-103, securing the team's 23rd straight victory in the process.
© Copyright IBTimes 2023. All rights reserved.