Michael Bennett Update: Video Evidence Found In Seahawks Player's Racial Profiling Case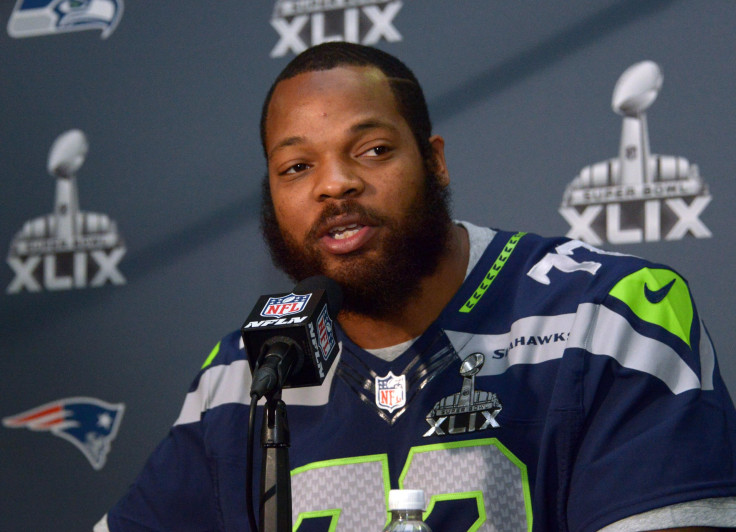 The truth behind Michael Bennett's allegation that police used excessive force following an incident in Las Vegas last month could be found with the help of a body cam, authorities said Wednesday, according to TMZ. The Seattle Seahawks defensive end said he was racially profiled during an Aug. 27 incident.
The Las Vegas Metro Police Department's Undersheriff Kevin McMahill said there was no evidence to prove that police used force on Bennett and that his claim of being racially profiled was wrong. Authorities are trying to find the truth behind Bennett's story by combing through hundreds of footages linked to the incident, TMZ reported.
McMahill said that police responded to an active shooter call at The Cromwell hotel on Aug. 27 and were trying to clear the casino and hunting for the shooter. Police chased Bennett — who was present at the scene — only after he started acting suspiciously.
McMahill reportedly said, that "due to Bennett's actions ... they believed Bennett may have been involved in the shooting and they gave chase." He added that both the officers involved in detaining Bennett are Hispanic.
An internal investigation is underway and so far there has been "no evidence that race played any role in this incident," McMahill said. After police found that Bennett was not armed, they determined the NFL star was involved in any criminal activity.
However, Bennett claimed that one of the cops held a gun to his head and threatened to "blow my f---ing head off."
Video of the incident shared by TMZ Tuesday did not show police holding a gun at Bennett. The video shows the 31-year-old being handcuffed and he screamed to the police officer that he didn't do anything wrong. "I wasn't doing nothing man! I was here with my friends! They told us to get out, everybody run!" he says in the video, which was filmed outside the nightclub. Bennett said that he felt "helpless" and "terrified" when he was allegedly held at gunpoint.
Martellus Bennett recalled the incident, which happened late at 1: 30 a.m. EDT after the famous Floyd Mayweather vs. Conor McGregor fight. Below is the full text:
The emotion and the thought of almost losing you because of the way you look left me in one of the saddest places ever. I could hear the fear in your voice, the tears in your eyes as well your sprinting heartbeat. I can't imagine how the people who lost their loved ones felt when they got the call. A lot of people feel like it couldn't happen to them because of status, neighborhood ('that only happens in the hood') or whatever, but it all honesty YOU could be next. I COULD BE NEXT. YOUR SON, DAUGHTER, BROTHER, FATHER, GRANDPA, SISTER, COUSIN could be next. I'm sad that you have to share this type of experience with the world but at the same time I'm happy that it happened to you and you lived to talk about it because we all know you're going to talk about it. Lol. The conversation is growing and I'm glad your voice is one of the ones being heard. You are as real as they come, well at least how they used to come. I encourage you to continue telling your story and the stories of those that came before. I love you very much @mosesbread72 to me you're much more than a n-----.
© Copyright IBTimes 2023. All rights reserved.