Michael Brelo Verdict: Cleveland Protesters Await Decision On Trial Of Police Officer Who Fatally Shot Timothy Russell, Malissa Williams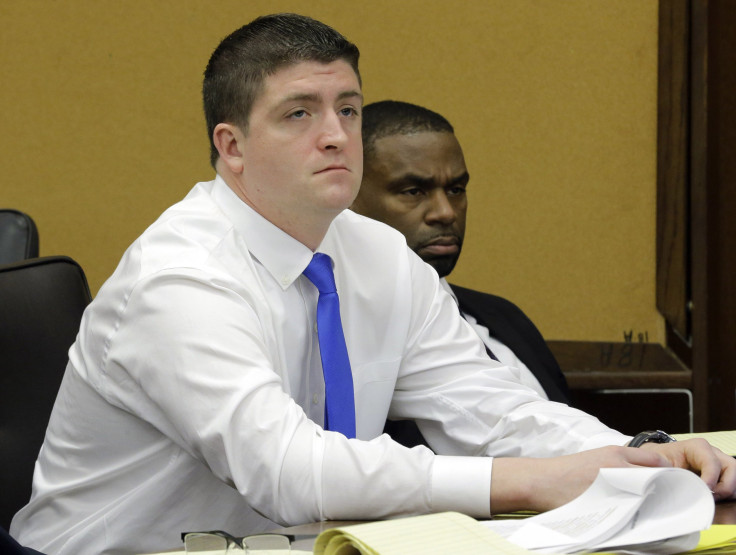 About 25 protesters blocked traffic in front of the Cuyahoga County Justice Center in Ohio Monday ahead of the anticipated verdict in the trial of a Cleveland police officer accused of manslaughter in the shooting deaths of two unarmed suspects. Common Pleas Judge John O'Donnell is expected to issue his decision this week on whether Officer Michael Brelo committed voluntary manslaughter after a high-speed chase involving Timothy Russell and Malissa Williams.
Protesters calling for a "fair verdict" blasted city officials for insinuating the public would not remain calm and commit violence such as the looting and vandalism that unfolded after the police-involved deaths of Freddie Gray in Baltimore in April and Michael Brown in Ferguson, Missouri, last year.
City and police officials in Cleveland have promised to protect the rights of protesters who remained peaceful, the (Cleveland) Plain Dealer reported. But officials have also put the National Guard on standby in the event of civil unrest.
There is no jury in Brelo's trial. His defense team opted to have a judge decide the charges. If convicted, Brelo could receive a maximum of 25 years in state prison.
Brelo, 31, a former Marine and Iraq War veteran, was the only police officer charged following a Nov. 29, 2012, shootout that saw Russell, 43, and Williams, 30, die in a hail of bullets. Russell and Williams led police on a high-speed chase and the shootout involved more than a dozen officers. Prosecutor Timothy McGinty, who has been at odds with the police union over his handling of the case, said the police response escalated to a level rarely seen.
A plain clothes officer tried to pull Russell over for a turn signal violation, but Russell sped away, leading to the chase, investigators said. Russell and Williams were each struck with more than 20 rounds, and nearly 100 gunshots hit their 1979 Chevrolet Malibu, during a 22-minute car chase. But it was the last of Brelo's 49 rounds that led to his being criminally charged. McGinty said Brelo's final 15 shots were fired as he stood on the hood of Russell's car after the chase had ended and the initial police shootout had stopped.
The prosecutor has argued the shooting was unjustified as there was no longer a threat to the police officers' lives. The defense team, however, argued the threat was only over when Brelo removed Russell's keys from the car. Investigators determined neither Russell nor Williams was armed.
© Copyright IBTimes 2023. All rights reserved.