Michael Brown A 'Thug': Mike Huckabee Blasts Ferguson Shooting Victim, Protesters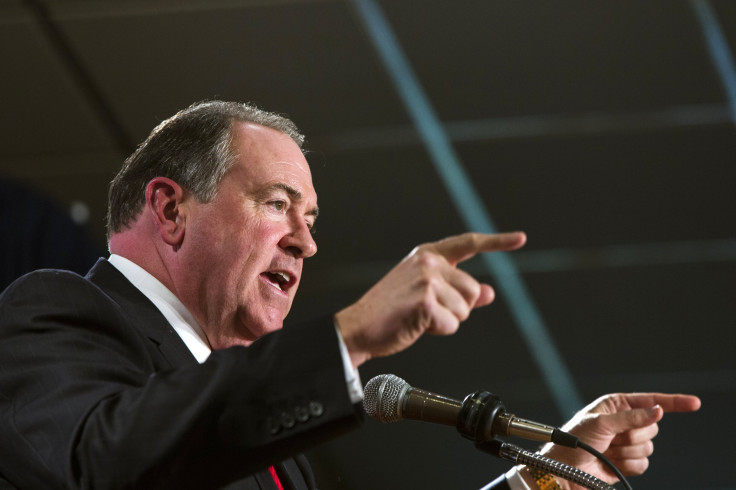 Former Arkansas Gov. Mike Huckabee said Michael Brown, the teenager who was shot and killed by a Missouri police officer in August, could have avoided his fate "if he behaved like something other than a thug." The potential 2016 Republican presidential candidate also called politicians and athletes who have been doing the "hands up, don't shoot" gesture in honor of Brown "foolish and dangerous," in remarks made during an interview excerpted by BuzzFeed.
"What gets you shot is when you grab a police officer's gun, and you lunge at him, and you try to hit him in the face," Huckabee said during his interview with NewsMaxTV's America Forum on Wednesday. "And this nonsense that — telling young people 'don't hold up your hands, 'cause thats gonna get you in trouble,' and instead I guess what they're teaching them is go loot a store, beat up a cop, reach for his gun, hope you get it before he does." Huckabee, who also hosts a show on Fox News, added that the response by certain members of Congress and NFL players showed that the country was "on the verge of anarchy."
Four members of the Congressional Black Caucus did the "hands up, don't shoot" gesture on the House floor on Tuesday, according to Politico. The gesture has been used by activists to protest Brown's shooting by police officer Darren Wilson along with the subsequent decision by a grand jury to not indict Wilson. It has come to symbolize outrage against racial injustice and police violence against African-Americans. Politicians aren't the only ones using the gesture to express their outrage. The St. Louis Rams made headlines this week after several players also made the gesture ahead of a game on Sunday.
Huckabee has been very critical of the use of the gesture, questioning whether its use is actually hurting the people protesters "claim to speak for," in a blog post published on his website on Wednesday. "By using the 'hands up, don't shoot' gesture as an ironic symbol, are [protesters] not telling young people that cooperating with police gets you killed, when we now know Michael Brown was killed because he DIDN'T cooperate?" he asked.
© Copyright IBTimes 2022. All rights reserved.
FOLLOW MORE IBT NEWS ON THE BELOW CHANNELS