Michael Sam Drafted By St. Louis Rams On 7th Round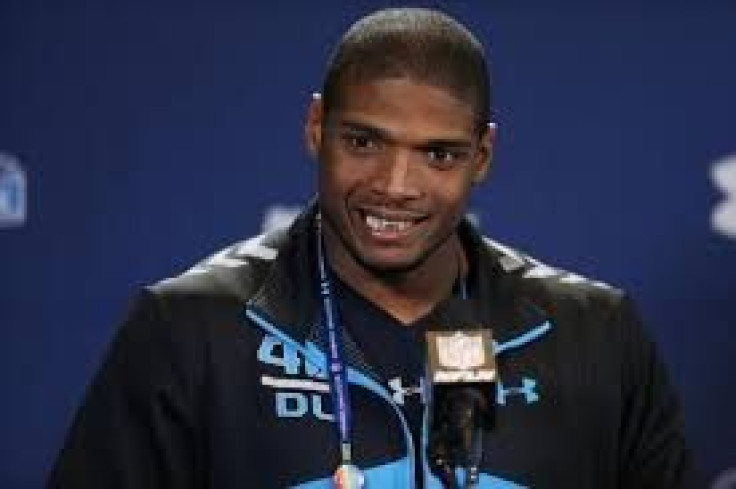 St. Louis Rams drafted Michael Sam Saturday on the 249th pick in the seventh round, setting him up to become first openly gay player in the NFL.
Sam thus avoided becoming the only SEC Defensive Player of the Year to go undrafted, Bleacher Report notes.
The sixth round of the 2014 NFL draft came and went without the star Missouri defensive end hearing his name called, calling into question whether he would be taken at all.
Sam was projected as a Day 3 pick by most talent evaluators. ESPN Scouts Inc. ranked Sam the No. 224 overall prospect—equivalent to an early seventh-round choice — while CBS Sports gave him a fifth-round grade.
Rams Coach Jeff Fisher told sportswriter Bruce Feldman, "I don't have any concern whatsoever. We have a very mature team. In the world of diversity we live in now, I'm honored to be a part of this."
Missouri has been comparatively slow in securing equal rights for gays. It was not until 2010 that the state first considered a bill that would add "sexual orientation" to its anti-discrimination laws. In May of last year, the state Senate passed a resolution banning employment, housing and public accommodations discrimination based on sexual orientation, but this was not acted upon by the House. According to a 2012 Public Policy Polling survey, 52 percent of Missouri voters oppose the legalization of same-sex marriage, with 12 percent undecided.
Sam becomes the first openly gay athlete drafted into one of America's major professional sports leagues. Veteran NBA player Jason Collins came out last summer and plays for the New Jersey Nets.
"For Michael, it's a little bit of relief that it's over, and you can finally say you're part of the NFL family. That is a dream come true for so many football players. That's a realization that all his hard work has paid off," gay former NFL player Wade Davis, the executive director of the You Can Play Project, told USA Today Sports. "Now he can really start to focus on his new journey."
© Copyright IBTimes 2023. All rights reserved.
FOLLOW MORE IBT NEWS ON THE BELOW CHANNELS