Michael Vick And The New York Jets: A Generally Terrible Idea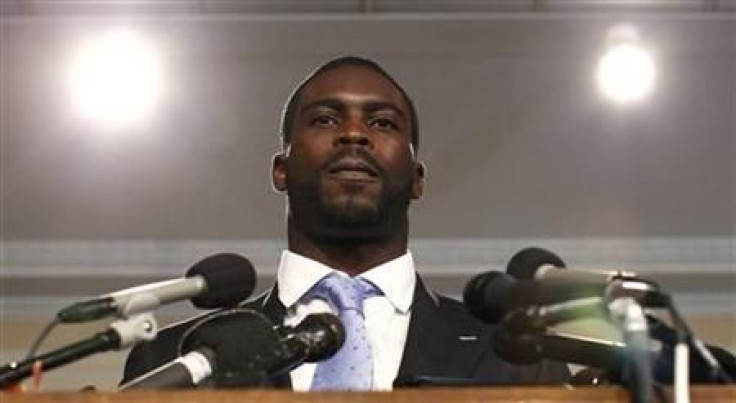 Misery loves company.
If you go by this motto, then, sure, the New York Jets and Michael Vick should be love at first sight.
But if Vick signed with the decadent franchise, it'd be a shotgun wedding. The two might have a steamy relationship early on (meaning buckets of media coverage), probably a few cute kids resulting from unprotected and reckless intimacy (i.e. a few golden wins), and possibly hope for a long-lasting healthy marriage, but the realistic, nonobstructed New York sporting fanatics out there know an unholy union between the Jets and Vick would never last, like many a shotgun wedding.
In place of a loving marriage would be a sullied matrimony where one party mentally and verbally abuses the other until the whole experiment ends in tears.
And if Vick signed with the Jets, it would indeed be an experiment -- and the Jets need to stop experimenting. The wildcat offense and Tony Sparano failed. Don't expect to see either the system being widely adopted or the offensive coordinator helming a franchise anytime soon.
Tim Tebow failed. He only undermined Mark Sanchez and added little value that a low-profile, undrafted special teamer from Appalachian State University couldn't have given the Jets.
Santonio Holmes failed. While he's electric when healthy, he's missed 18 games in three seasons with the Jets and has been nothing short of an unremitting clubhouse parasite.
While the Jets have been experimenting with their offensive stars and system, their offensive line has been porous and their rushing defense is 29th in the NFL. Sanchez, maker of many unwise throws and victim of the team's abysmal O-Line, will be gone next season.
Vick should not be the man to replace him. In a replacement quarterback, the Jets should look for a stable gunner who knows how to protect the ball, an essential trait Sanchez never truly mastered. Vick is not this guy. He's exciting, which probably has Jet fans salivating, but he's also turnover- and injury-prone. Before the injuries mounted, Vick ranked 25th in completion percentage and 23rd in QB rating. He's not the natural passer the Jets need. Worse, there's no assurance Vick won't turn the ball over as often as he did this year with the Philadelphia Eagles: nine interceptions, 10 fumbles. At this point, Jets fans should vomit at the thought of another turnover-addled passer.
After suffering a slew of concussions, Vick should join a franchise that guarantees him protection. Sanchez was battered before he even stood a chance on many dropbacks. It may be too daunting of a task for the Jets to drastically overhaul their line in one season. There's no guarantee Vick wouldn't be similarly mauled if he lined up in back of a Jets center next year.
Michael Vick and the New York Jets would never last. It's a relationship that's destined to fail almost as quickly as the New York media will trumpet it as the best thing that's ever happened in the tristate area.
Once you have watched enough Jet football, you know if a decision makes no sense for the team, then it'll most likely happen. That's the Jet way. Media sideshow over on-field victories. I know I'll be anxiously awaiting the save-the-date card for the big event.
© Copyright IBTimes 2023. All rights reserved.