Michigan State-Louisville 2015: TV Channel, Start Time, Prediction For College Basketball Game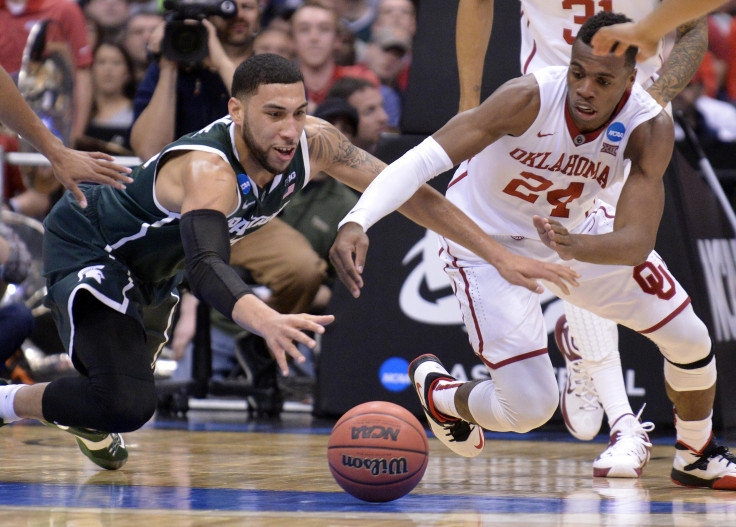 Two underdog teams with Final Four ambitions will meet when the No. 4-seeded Louisville Cardinals (27-8; 12-6) take on the No. 7-seeded Michigan State Spartans (26-11; 12-6) in an Elite Eight, West region game in Syracuse on Sunday. It will be a matchup of schools and coaches quite familiar with the big stage.
Louisville Coach Rick Pitino has appeared in seven Final Fours and won two championships (one with the Cardinals in 2013) throughout his career. Michigan State Coach Tim Izzo has appeared in six Final Fours and won a championship in 2000. The two great coaches know what they're in for Sunday afternoon.
"Sure as hell is fitting for me and I'm sure for him," Izzo said in a news conference, referring to Pitino. "I think it is. I think we both kind of came through similar kinds of years and in different ways."
Both squads have taken a winding path to the Elite Eight, but have hit their stride at the perfect time to face off against one another. Michigan State is the lowest remaining seed in the tournament and at times during the season looked like it wouldn't even make the NCAA tournament field. But Izzo has gotten stellar play out of guards Travis Trice (15.3 ppg, 5.1 apg) and Denzel Valentine (14.3 ppg, 6.1 rpg, 4.4 apg) to help turn the Spartans into a dangerous squad. Trice dropped 24 points and Valentine added 18 in Michigan State's 62-58 win over Oklahoma.
The Spartans play a balanced team game and shoot a solid 47.1 percent as a team. They will need to be patient against a good Cardinal defense that allows just 59.4 points per game. Louisville is in the top 20 in the NCAA in points allowed (17th), blocks per game (11th) and steals per game (17th).
Sophomore guard Terry Rozier (17.2 ppg, 5.5 rpg) and junior forward Montrezl Harrell (15.7 ppg, 9.2 rpg) do the bulk of the offensive work for the Cardinals. Harrell was especially impressive in Louisville's Sweet 16 win over North Carolina State, scoring 24 points on 75 percent shooting while grabbing seven rebounds. His above-the-rim game might be matched up against Spartans forward Branden Dawson, who averages 11.9 points and 9.1 rebounds.
Louisville will likely look to pressure the Spartans through tough defense, while Michigan State finds its success through a steady, composed approach. The difference in styles should make for a good battle at both ends of the floor.
The two teams might have surprised a few pundits and broken a few brackets on their way to the Elite Eight, but don't expect either to go down easily. Michigan State is a slight three-point favorite, despite its lower seeding, according to bovada.lv. Izzo and Pitino seem to have the ability to get the most out of their players every March. It should make for a great game Sunday.
"Now you know you're one game away from the Final Four," Pitino said in a news conference. "If you get there, you know you're two games away from the National Championship. So it keeps building and building and building, and you get more excited as it goes along."
Start Time: 2:20 p.m. ET
TV Channel: CBS
Live Stream: Watch online at March Madness Live
Prediction: Michigan State has had a great run to the Elite Eight, but Louisville's stellar defense might just have enough to slow down the Spartans.
Louisville over Michigan State, 62-59
© Copyright IBTimes 2023. All rights reserved.