Michigan State - Wisconsin Basketball: TV Channel, Start Time, Live Stream Info For 2015 Big Ten Championship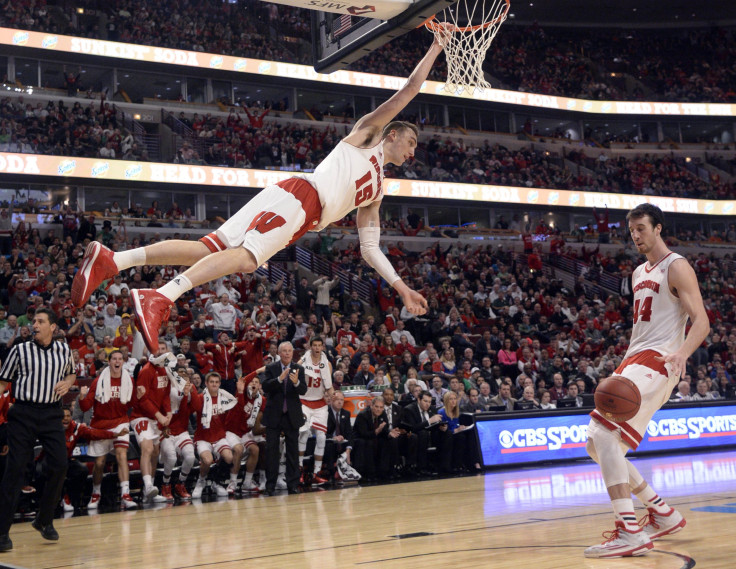 The No. 6 Wisconsin Badgers (30-3) have secured at least a No. 2 seed in the upcoming NCAA Tournament. But Bo Ryan's squad will look to gain some momentum entering the tournament when they face traditional-power Michigan State (23-10) in the Big Ten championship game at the United Center in Chicago on Sunday.
Wisconsin has been dominant all season, and might be playing for the chance at a No. 1 seed after Duke and Virginia both lost in the ACC tournament semifinals. It's not something they're focused on but it it's impossible to ignore.
"They know, they watch TV," Wisconsin associate coach Greg Gard said to the Milwaukee Journal Sentinel. "They're human.
"We don't try to hide it but we don't talk about it and we don't make a big deal about it."
Ryan was a little blunter in his assessment.
"You know, I never really have talked about seeds ever," he said to reporters.
For now the focus is on a Big Ten tournament title, an honor the Badgers haven't earned since 2008. They advanced to the final with a lopsided 71-51 win over Purdue. The result had a lot to do with star senior forward Frank Kaminsky, one of the best players in the country. He dropped 12 points on Purdue but also played stellar defense to shut the Boilermakers down. Kaminsky averages 18.2 points and 8.1 rebounds.
The Badgers will have a tough opponent in Michigan State. The last time the two played it was a close matchup, Wisconsin winning 68-61 on March 1. The Spartans are playing their best basketball at the right time as the postseason ramps up. They beat No. 8 Maryland 62-58 to advance to the championship game. Coach Tom Izzo said his school's history has something to do with the well-timed surge in quality of play.
''I think because we have so many great alums that really look at this month and they call from everywhere and they call our players, and our players, I think, somewhat feel a little obligated,'' Izzo said to reporters. ''That's not a bad thing, you know, to live up to the standards of the people that built the program.''
Izzo has coached the Spartans to six Final Four appearances and one NCAA title, in 2000. The win over a very tough Maryland squad set up a face-off with the Big Ten's best regular-season team. The Spartans will likely rely on the guard duo of senior Travis Trice and junior Denzel Valentine to try and win the tournament. Trice has averaged a team-best 15.1 points and 5.2 assists over the year. He scored 20 against Maryland. Valentine has averaged 14.4 points and 4.3 assists but scored just four points against the Terps. He has assisted seven times in each of the last three games, however.
Wisconsin might try to pound the paint with Kaminsky and Michigan State might rely on their stellar guards. It should be an interesting matchup and one that could have a big impact on the seeding of the NCAA Tournament.
Start Time: 3:30 p.m. ET
TV Channel: CBS
Live Stream: Online at CBS Sports
Prediction: Like the last matchup, this one should be close. Michigan State is playing very well but so is Wisconsin. The Badgers will lean on Frank Kaminsky, who leads the team to victory.
Wisconsin over Michigan State, 72-66
© Copyright IBTimes 2023. All rights reserved.