Michigan Wolverines Football: 3 Possible Head Coach Candidates Other Than Les Miles And Jim Harbaugh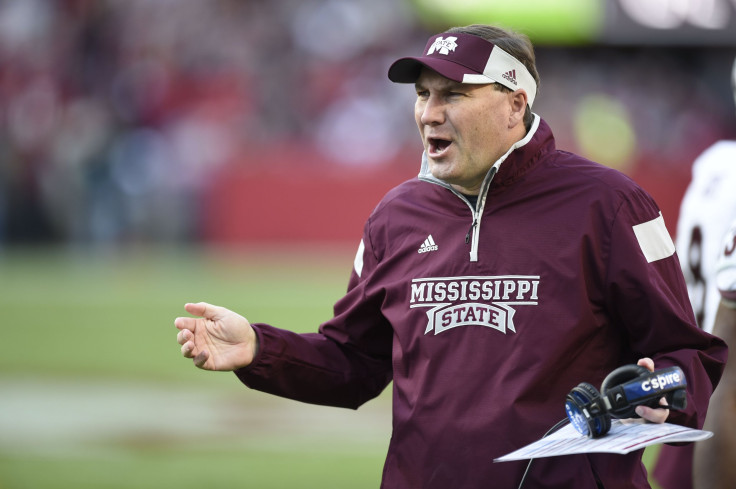 As Michigan continues to search for a head coach, Jim Harbaugh and Les Miles standout as the top two candidates. While the school has a chance to land one of the two, interim Athletic Director Jim Hackett might be forced to look elsewhere for Brady Hoke's replacement.
Harbaugh appears to be Michigan's No.1 choice, and understandably so. The former Wolverines quarterback took over a one-win Stanford team in 2007, and led them to 12 victories in 2010. He's been one of the NFL's top coaches over the last four seasons, taking the San Francisco 49ers to the NFC Championship Game in his first three years with the club, and the Super Bowl in 2013.
Even though Harbaugh's time with the 49ers might be up, Michigan has a lot of competition for his services. He'll likely be the top choice of several NFL teams who have head coaching vacancies, and his preference might be to remain in the pros. Sportsbook.ag has set the Oakland Raiders as the favorite to land Harbaugh, giving them -160 betting odds of hiring the 50-year-old.
Making a strong push for Harbaugh could be dangerous for Michigan. Heading into Week 15, the 49ers are still in the playoff race, and Hackett might have to wait until 2015, if he wants to lure Harbaugh away from the NFL.
While the Wolverines might not be able to land Harbaugh, it might be just as difficult to land Miles. A Sports Illustrated report claims that Miles would take the job with his alma mater, but it's no guarantee that he'd leave his current situation.
Hackett, who played with Miles at Michigan in the mid-1970's, reportedly wants to hire the current LSU coach, if he can't land Harbaugh. However, Miles could choose to stay with the Tigers, with whom he might have a much better chance to succeed. Since Miles began with LSU in the 2005 season, the team reached two national title games and has won at least 10 games in seven seasons. Michigan has won more than eight games just once in the last seven seasons.
If Harbaugh and Miles no longer become candidates, who can Michigan hire? Former Tampa Bay Buccaneers head coach Greg Schiano has been mentioned as a possibility, but he's turned down the job before and never appeared to be an ideal candidate in the first place.
Below are three coaches that stand out among the rest, because of their qualifications or ties to the school. There have been no confirmed reports of Hackett reaching out to any of these coaches, but they might be the best options after Harbaugh and Miles.
Dan Mullen
The Mississippi State head coach doesn't have any links to Michigan, but he should be among the most highly coveted coaches in college football. Prior to Mullen taking over as head coach in 2009, the Bulldogs had played in just seven bowl games since 1991. Not only has the 42-year-old made five straight bowl appearances, but he turned the team into a national title contender, winning 10 games and ranking No.1 for five weeks in 2014.
Mullen's contract runs through the 2017 season, and he has stated that he's happy in his current position, but an offer from Michigan might tempt a move to Ann Arbor. Michigan is one of the most storied programs in college football history, and Mississippi State is almost never in the conversation for a title, having to compete in the perpetually competitive SEC. The potential for long-term success is much greater with the Wolverines.
Gary Patterson
Just like Mullen, the TCU head coach has no ties to Michigan, but he has an even longer history of success. The 54-year-old has turned the Horned Frogs into a national power that arguably should have made the inaugural College Football Playoff.
TCU finished the season as the No.6 team in the nation, behind Baylor and Ohio State. Even though he's led his team to at least 11 wins in seven of the last 10 seasons, Patterson will have trouble competing for a title. Perhaps if TCU had the name recognition of Michigan, the school would be playing in the semifinal. In 2011, Patterson was considered a possibility for the Michigan vacancy.
Josh McDaniels
The offensive coordinator of the New England Patriots has limited head coaching experience, only holding the position with the Denver Broncos from 2009-2010, but his pedigree makes him a possible candidate. He's coached under Bill Belichick for over a decade and was a grad assistant for Nick Saban at Michigan State. He also coaches former Michigan quarterback Tom Brady.
A Barberton, Ohio native, McDaniels grew up three hours away from Ann Arbor. He reportedly was considered a serious candidate for other top college football coaching jobs, including the opening at Florida. He's also much younger than most candidates at 38 years old, though he has 15 years of coaching experience. After serving as an offensive coordinator since 2011, McDaniels may be ready to return to head coaching.
© Copyright IBTimes 2023. All rights reserved.