Midterms 2014 Ads: Democrats Use Race, Trayvon Martin And Mike Brown Shootings To Court Black Voters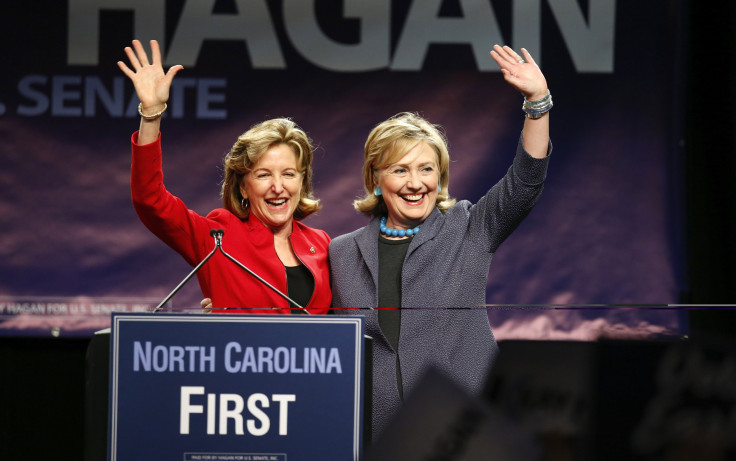 Campaign pieces featuring a photo of a lynching and a radio ad that refers to the killing of Trayvon Martin are being used in North Carolina to energize black voters to re-elect Sen. Kay Hagan. In Arkansas, black voters are being courted by ads suggesting that the GOP is trying to impeach President Barack Obama and is "targeting our children." African-American voters in Georgia are seeing ads that focus on threats to Obama's presidency rather than on the Democratic Senate candidate, Michelle Nunn.
Desperate to turn out African-American voters -- a critical sector of the party base -- Democratic candidates and party operatives are using racially charged images and language in the final days before Election Day. It's difficult to gauge the strategy's impact on black voter turnout because the approach is almost unheard of.
"I have never seen anything like it. I've never seen African-Americans have mailers featuring hangings. It's simply unprecedented," said John Davis, a North Carolina political consultant and analyst. "There is quite obviously a lot of money being invested by those in the Hagan camp, and turning out African-American votes -- the fear factor of going back to the Old South -- whether that will work or not, nobody knows because it hasn't been done before in such an in-your-face way."
Appealing to black voters has usually meant robo-calls featuring Bill or Hillary Clinton, who are popular with African-Americans, said Davis.
The 2012
killing in Florida of Martin
, an unarmed black teen, by George Zimmerman, who is of white and Hispanic descent, stoked racial tensions across the country. Zimmerman was found not guilty after his lawyers successfully argued that he shot the 17-year-old in self-defense. Two years later, Michael Brown, who was also unarmed, was shot and
killed by Ferguson, Missouri, Police Officer Darren Wilson
in August 2014. Wilson has yet to be charged with any crimes, but the incident fueled riots and looting in Ferguson, and protests continue.
Thom Tillis, Hagan's Republican opponent and speaker of the North Carolina House, was portrayed in the ad (paid for by the Senate Majority PAC, which is connected to Senate Majority Leader Harry Reid, D-Nev.) as a candidate who "won't fight for us," referring to the black community. "Instead, he made it harder for communities of color to vote by restricting early voting and voter registration," the ad goes on to say. "Tillis even led the effort to pass the type of Stand Your Ground laws that caused the shooting death of Trayvon Martin."
Carmine Scavo, a political science professor at East Carolina University, said he didn't believe the racially charged ad would stimulate black turnout in North Carolina by much. Other factors, such as Sunday early voting, which is decided by individual counties, and black ministers busing their congregants to the polls, will play a larger role, he said. But every decision made in the campaign, including the controversial ads, can swing the outcome.
"This race, because it's so close, any small thing can matter," Scavo said. "An uptick of half a percentage point in black turnout can make a difference."
In Arkansas, Sen. Mark Pryor, a Democrat, is behind Republican Rep. Tom Cotton by an average of seven percentage points in the most recent polls, according to Real Clear Politics, which recently changed its rating of the race from tossup to "leans GOP."
Pryor's campaign is not involved in the mailer that says Republicans are "targeting our children," "attacking our rights" and "trying to impeach President Obama"; a group called Color of Change, based in California, sent out the literature to homes in Arkansas.
"The people we elect on November 4th will be in charge of our police departments. If we want to end senseless killings, like Michael Brown in Ferguson, Missouri, we need to vote," the mailer says.
In Georgia, where Nunn is in a tight Senate race with Republican David Perdue, the state Democratic Party funded a mailer urging blacks to vote Democratic "to protect President Obama and his legacy as the first African-American president." Nunn, the daughter of former Georgia Sen. Sam Nunn, is not mentioned in the mailer.
Jason Carter, a grandson of former President Jimmy Carter, is the Democratic candidate for governor in Georgia. His campaign has also used racial themes, including an ad on black radio that used audio of Republican Gov. Nathan Deal not repudiating birther claims against Obama.
White voters will decide the election in Georgia, but Nunn needs every black vote she can get to have a chance, said Andra Gillespie, a political science professor at Emory University in Atlanta. African-Americans represent about 20 percent of the electorate in Georgia, and turnout in the last midterm elections among all voters was just 28 percent.
"You need more than just black votes," Gillespie said. "[Nunn and Carter are] not getting enough white votes based on polling. If they lose, that's going to be the story of the election."
Gillespie said the racial issues being brought up during the campaign are more persuasive to undecided black voters than those who already have their minds set on voting Democrat.
"I think it's intriguing that people would try to use racialized messages to get people to turn out to vote," she said. "Invoking the civil rights movement might be a way to really try to convince people who may still be on the fence."
The Senate race in North Carolina may hinge on black turnout. Hagan received 96 percent of the black vote in 2008, according to CNN exit polling. Obama's historic candidacy boosted African-American turnout so dramatically that, for the first time, it surpassed white turnout in the state. But Obama is not on the ticket this year.
"Kay Hagan cannot win with the typical election year turnout of African-Americans," Davis said. "Obama inspired an extraordinary turnout among African-Americans in 2008. It's such a critical factor for Hagan."
Using racial messages in campaign ads is nothing new. In 1990, then-Sen. Jesse Helms, R-N.C., put out a controversial ad about affirmative action that showed white hands crumpling up a rejected job application. "You needed that job, and you were the best qualified. But they had to give it to a minority because of a racial quota. Is that really fair?" the ad asked.
But this seems to be the first campaign season when the Democratic Party is so explicitly using race.
"Frankly, I'm surprised that there's not more of this, given how close the race is here," Scavo said.
FOR FREE to continue reading
✔️ Unlock the full content of International Business Times UK for free
offer available for a limited time only
✔️ Easily manage your Newsletters subscriptions and save your favourite articles
✔️ No payment method required
Already have an account?
Log in
© Copyright IBTimes 2023. All rights reserved.