Floyd Mayweather Next Opponent: Amir Khan Out? Marcos Maidana In?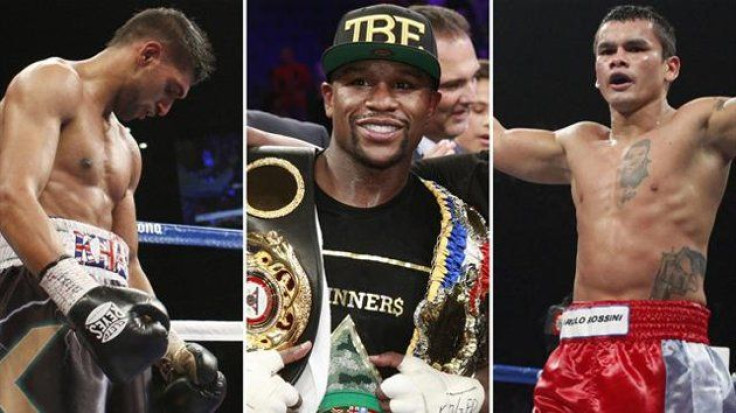 For weeks, it looked like Floyd Mayweather would face Amir Khan on May 3, 2014. However, the undefeated boxer has a different opponent for his next fight.
On Monday, Mayweather announced that he'll take on Marcos Maidana in just over two months. The bout will be held in either Las Vegas or Brooklyn. Mayweather's last eight fights have been at the MGM Grand.
Mayweather will try to extend his career record to 46-0, as he fights the 30-year-old from Argentina. Maidana last stepped in the ring on Dec. 14 against Adrien Broner, winning the WBA Welterweight title against Adrien Broner by unanimous decision. Maidana's belt, as well as Mayweather's welterweight titles, will be on the line.
"Marcos Maidana's last performance immediately brought him to my attention," Mayweather said. "He is an extremely skilled fighter who brings knockout danger to the ring. I think this is a great fight for me and he deserves the opportunity to see if he can do what 45 others have tried to do before him -- beat me."
Mayweather is expected to be a heavy favorite against Maidana, an aggressive boxer with a 35-3 career record. In September, Mayweather cruised to a victory over Canelo Alvarez, who was considered to be one of the 37-year-old's toughest challengers.
The news comes as a disappointment to Khan, who thought he would get a chance to fight the world's top boxer. The Brit signed a contract in December for the right to go one-on-one with Mayweather. Earlier this month, Mayweather ran a poll on Twitter to determine whom he should fight, and 57 percent of the fans chose Khan over Maidana. Still, Mayweather decided to go in the other direction.
"No response from Mayweather or his team," Khan tweeted. "Fights not happening. I should of taken the title fight last December against Alexander. Very disrespected by [Mayweather's] team. Wasted my time. Good luck to Maidana against Mayweather. Can I apologize to the thousands of people who are let down. You me and everyone wanted the Mayweather fight. He's running scared."
While there may be no current boxer who can give Mayweather a legitimate challenge, many experts felt that Khan was not a worthy opponent. Before defeating Julio Diaz and Carlos Molina in early 2013 and late 2012, respectively, Khan had lost twice in a row. In December 2011, he was beaten by Lamont Peterson in a split decision. Seven months later, he was knocked out in the fourth round by Danny Garcia.
Mayweather vs. Maidana will be broadcast on Showtime PPV. No matter the outcome, Mayweather is scheduled to fight again in 2014. His deal with Showtime has him getting back in the ring in September.
© Copyright IBTimes 2022. All rights reserved.
FOLLOW MORE IBT NEWS ON THE BELOW CHANNELS