Mikey Garcia Will KO Manny Pacquiao With 'Right Hand,' Renowned Trainer Predicts
KEY POINTS
Timothy Bradley's former trainer Joel Diaz predicts Mikey Garcia will KO Manny Pacquiao
Garcia's trainer and brother Robert said he had been told his pupil hits harder than Pacquiao
The Filipino legend is linked to a potential superfight against retired UFC star Khabib Nurmagomedov
Renowned boxing trainer Joel Diaz made a bold prediction about the potential Manny Pacquiao vs. Mikey Garcia fight.
Garcia has become the frontrunner to be Pacquiao's next opponent. Ahead of the potential mega welterweight showdown between the two heavy-hitting boxers, Diaz, who studied Pacquiao's fighting style, having been Timothy Bradley's trainer in the past, thinks Garcia has an edge over the 42-year-old.
According to Diaz, Garcia is more strategic than Pacquiao, and ultimately, the former will knock the eight-division titlist with his "right hand."
"That's a great fight," Diaz recently told EsNews of Pacquiao vs. Garcia. "Mikey's very accurate and [Manny] Pacquiao is reckless because he throws a lot of punches. I think Mikey at this point will knock him out with a right hand. "
"I saw Mikey against Jessie Vargas, he is very accurate with his punches and he will catch Pacquiao with a right hand," the trainer added. "It's a great fight."
Garcia has been a pupil of his older brother Robert almost his entire professional career. Like Diaz, Robert too is convinced that his younger brother possesses devastating power in his hands.
Robert said some of Pacquiao's former rivals in the welterweight division have told him "Mikey hits harder."
"Mikey's training hard and Mikey's got skills," Robert pointed out. "Mikey also has power. We've had fighters who've faced [Manny] Pacquiao before - [Antonio] Margarito, Brandon Rios, and they all tell us that Mikey hits harder, you know Jessie Vargas also mentioned something like that."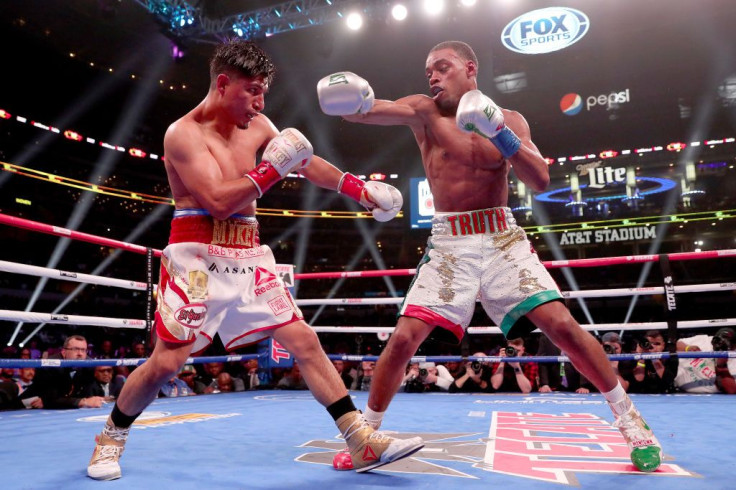 Erik "El Terrible" Morales is another famous name in the sport who had also shared his thoughts about the subject. Like Bradley, it can be recalled that Morales also fought Pacquiao three times in the past and also managed to score a win over "Pac-Man" in the process.
For Morales, Mikey has a good resume as Pacquiao's opponent, but in the end, "experience" will prevail and his former foe will have his hands raised.
"Mikey Garcia is a great fighter," Morales recently told Boxing Scene. "[But] Manny Pacquiao is very, very strong though."
"Pacquiao shows that there are levels to this game," he added. "I think that experience will win out and Pacquiao wins."
Amid the looming welterweight showdown between Pacquiao and Garcia, a recent report also stated that the Filipino fighter might also consider fighting retired UFC star Khabib "The Eagle" Nurmagomedov.
According to the report, Nurmagomedov's presence in Pacquiao's next fight would strongly suggest that the pair would be interested in facing each other.
© Copyright IBTimes 2023. All rights reserved.