Miley Cyrus' Booty Gets Hashtag After VMAs Performance: Funny Twitter Memes and Reactions [PHOTOS]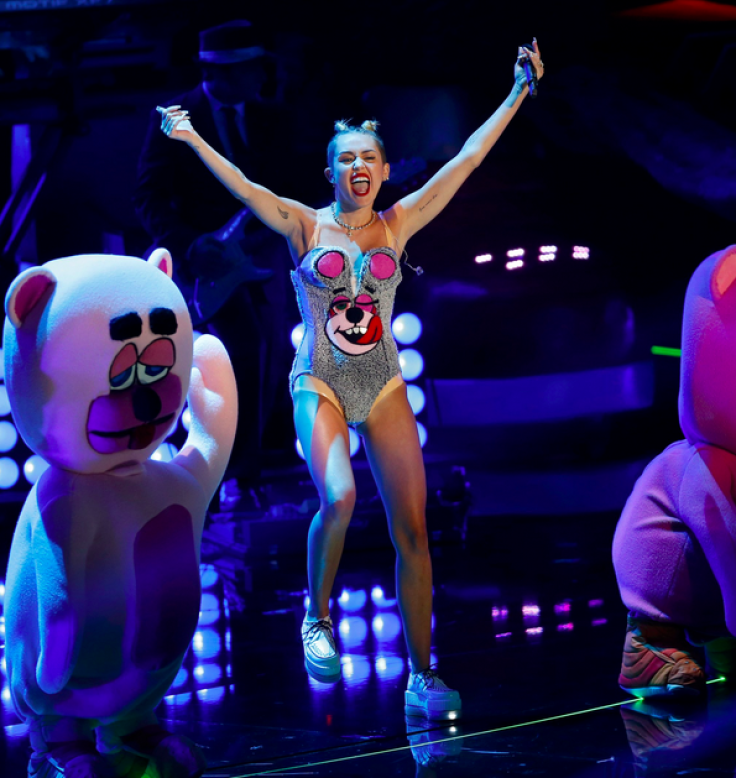 People can't stop talking about Miley Cyrus after her MTV Video Music Awards performance Sunday night at the Barclays Center in Brooklyn, and by now she's been a trending topic on Twitter with #MileyAssSmallerThan for an entire day. She stripped down to a nude bikini and practically bared it all, but not everyone was happy with the shape of Cyrus' derriere, which has resulted in various memes.
Seemingly endless Twitter memes have begun to go viral on the Web, all of which poke fun at the 20-year-old's backside. It appeared that the former Disney starlet was trying to prove that she was all grown up now, but it came off as unrehearsed, uncomfortable and unforgettable in a bad way.
One popular meme compares Cyrus' booty to a plucked chicken's behind. Another pokes fun at her by likening her derriere to the bottom of an apple. Some even said Cyrus' backside was even tinier than the figurative "world's smallest violin."
Robin Thicke, who performed with the blonde starlet on Sunday, was upset that she might have overshadowed her, according to Us Weekly, but others said the "Blurred Lines" singer was fine with Cyrus distasteful act.
Not only did the "We Can't Stop" singer expose her backside to the world, she also repeatedly stuck out her tongue whenever she wasn't singing. It was as if she couldn't breathe if her tongue wasn't outside of her mouth.
Viewers who saw Cyrus' escapade at the VMAs have gone wild on Twitter and continued to share memes and reactions throughout the day. Check out some of their messages and posts below:
© Copyright IBTimes 2023. All rights reserved.