Is Mitt Romney's Campaign Over Before It Even Began?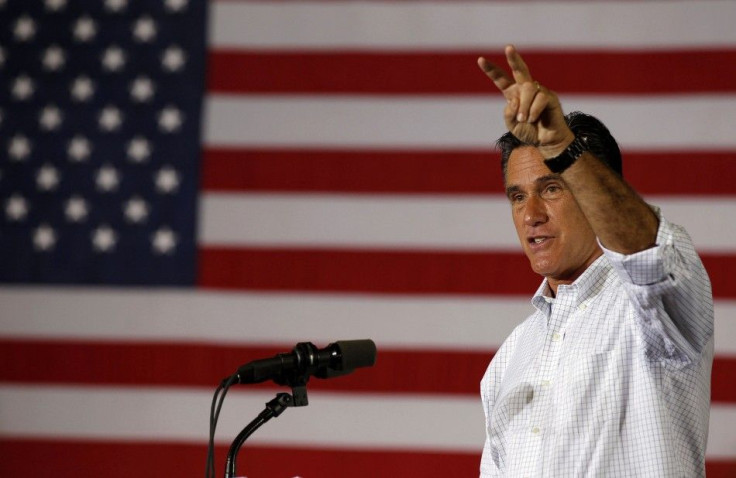 Mitt Romney isn't even the official Republican presidential nominee yet -- it won't be certified until the Republican National Convention in August -- but his campaign may already be virtually over.
Scrutiny of Romney's years at the helm of the private equity firm Bain Capital has intensified this week following a Boston Globe report that said he continued to be listed as the company's president, CEO, chairman and sole shareholder on Securities and Exchange Commission documents three years after he claims to have resigned from the firm. Democrats have hit on the story as an example of Romney's troubling lack of transparency regarding his personal wealth, particularly in an election cycle that has revolved around the state of American jobs and the economy.
The official story from the Romney camp has not changed in years: Romney left Bain in February 1999 to run the Winter Olympics in Salt Lake City, a success he ultimately used to fuel his Massachusetts gubernatorial campaign in 2002. The Romney campaign has pointed to former Bain executives and fact check websites that support the claim that the GOP candidate did not have a hand in company practices after 1999.
But President Barack Obama's reelection campaign was quick to jump on the Globe story, using it to connect Romney to a series of bankruptcies and layoffs that plagued companies owned by Bain in the early 2000s. In a statement, Obama's deputy campaign manager Stephanie Cutter also said the story raises serious questions about why he misrepresented the date of his 'departure' and whether he is concealing his tax returns because there is still more about this period and beyond that he doesn't want people to know.
Romney has been under increasing pressure to release more of his personal financial information to the public after the publication of a Vanity Fair article that said he used offshore transactions and accounts to hold assets and possibly gain tax benefits. He has continued to skirt the issue, insisting he has made appropriate tax payments on funds he said were legally reported to the U.S. government.
For its part, Bain Capital said that while Romney left the company in 1999, he remained the sole stockholder while formal ownership was being transferred due to the sudden nature of [Romney's] departure. The only problem is, Romney himself provided a different explanation to the Massachusetts State Ballot Law Commission in 2002, when he said he left Bain in 1999 to take a leave of absence, before eventually negotiating his own departure with company executives.
But even if Romney was not an active member of Bain's management after 1999, he still benefited from the company, financially. According to the Globe, Romney's Massachusetts financial disclosure forms filed in 2003 state he earned at least $100,000 as a Bain executive in 2001 and 2002.
To the Obama campaign, this can be seen in two ways: Either Romney, through his own words and signature, misrepresented his position at Bain to the SEC, which would be a felony. Or, he has misrepresented his own role at Bain to the American people to distance himself from some of its failures. Either way, neither of those explanations is likely to earn the trust of voters in November, especially from a candidate who has already had a tremendous amount of trouble connecting with prospective supporters on the campaign trail.
Bain Capital has already proven to be a sore spot among American voters. A Wall Street Journal poll from June found that the Obama campaign's attack ads on Bain -- which focused on the bankruptcies and layoffs at some Bain holdings -- have been effective in swing states, where 32 percent said his record at the firm was a reason to oppose him.
Plus, because Romney has opted to make the economy the sole talking point of his presidential push -- even to the ire of some Republicans, who have balked at his reluctance to delve into real policy stances -- attacks on his business background are essentially an attack on his entire campaign. If he's successfully associated with Bain during the firm's struggling years, when at least four companies either folded or were downsized after being purchased and reorganized by Bain, it would difficult to sell him as the as the candidate who will fix the economy and create jobs -- and that has been Romney's assertion in pretty much every stump speech he has given this election cycle.
Some Republicans say that Romney's only option is to keep doing what he has been doing. Kellyanne Conway, a GOP strategist and pollster, told The Daily Caller that, instead of apologizing for his success (something Romney has already said he would not do, on multiple occasions), he should point to all of Bain's successes.
He helped start or expand some of the nation's most popular businesses: Staples, Burger King, Sports Authority. And then he can ask voters to ask themselves: Who created more jobs and who lost more jobs, Romney or Obama? It's not even close, Conway said.
Similarly, Dr. Larry Sabato, a political scientist at the University of Virginia, told the publication that Romney should go on the offense and focus entirely on Obama's weak economy and other failures as president.
However, that strategy does not appear to be working. Fifty percent of registered voters currently say they support Obama, according to the Pew Research Center for the People and the Press, compared to the 43 percent who back Romney. While Obama's lead is relatively slim, it has held steady for months. The same poll found that Obama is polling higher than Romney on a variety of policy issues, including dealing with the problems of the poor (30-point lead), dealing with health care (8-point lead), and improving economic conditions (6-point lead).
The only areas where Romney leads the president is reducing the federal budget deficit (14 points) and job creation (4-point lead.) If the Bain Capital story continues to make waves, Romney could see those leads diminish before he and Obama even engage in their first national debate.
© Copyright IBTimes 2023. All rights reserved.
FOLLOW MORE IBT NEWS ON THE BELOW CHANNELS