Mitt Romney Stayed At Bain Years After He Claims, Government Documents Show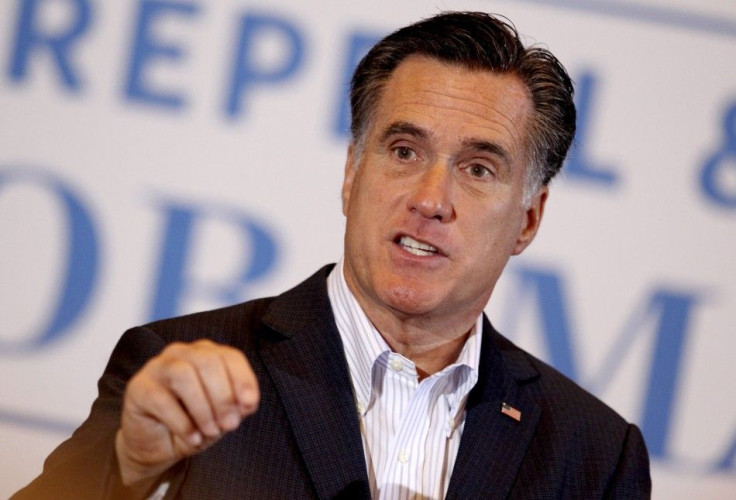 Mitt Romney stayed at Bain Capital three years longer than he has claimed, according to 2002 Securities and Exchange Commission filings identifying the Republican presidential nominee as the firm's chief executive and chairman, even though he officially says he left in 1999.
Romney has said he left Bain in 1999 to run the Winter Olympics in Salt Lake City, the official end to his career at the private equity firm frequently cited by his campaign. However, SEC documents later filed by Bain Capital list Romney as the sole stockholder, chairman of the board, chief executive officer and president, according to an investigation by The Boston Globe.
A Massachusetts financial disclosure form filed by Romney in 2003 also reportedly stated that he owned 100 percent of Bain in 2002, while his state financial disclosure forms indicate he earned at least $100,000 as a company executive in 2001 and 2002.
The situation could be sticky for Romney because it could mean he used an earlier departure date to distance himself from attacks on Bain's unsavory record during the early 2000s. The GOP candidate has said his resignation from the firm in February 1999 means he was not responsible for the companies that later went bankrupt or laid off employees under Bain's watch.
Romney has frequently to his business experience at Bain as an example of why he would be better than President Barack Obama when it comes to creating jobs and reviving the economy.
The Globe's story follows a similar report in Mother Jones magazine earlier this month about a Bain Capital investment in a medical waste firm that also cited SEC documents listing Romney as part of a deal that occurred months after he allegedly resigned.
The story is already being circulated by the Obama campaign as evidence that Romney had a hand in Bain investments that went sour after 1999.
This puts him at the center of responsibility for troubling investments involving outsourcing and bankruptcies. It also raises serious questions about why he misrepresented the date of his 'departure,' and whether he is concealing his tax returns because there is still more about this period and beyond that he doesn't want people to know, said Stephanie Cutter, deputy campaign manager for Obama, said in a statement.
Representatives from Bain Capital and the Romney campaign reportedly told the Globe the SEC filings in question are inconsequential and may have been the result of legal technicalities. In a statement, Andrea Saul, a campaign spokeswoman, said multiple fact checkers have confirmed Romney left Bain in 1999 and had no input on investments or management of companies after that point.
However, Roberta S. Karmel, a former SEC commissioner, told the Globe the SEC documents are a serious indication that Romney had a hand in the company after 1999.
You can't say statements filed with the SEC are meaningless. This is a fact in an SEC filing, Karmel said.
The Romney campaign has questioned Karmel's credibility in the matter, according to USA Today, which reports campaign officials have noted that she was appointed to the SEC by former President Jimmy Carter, a Democrat.
© Copyright IBTimes 2023. All rights reserved.