MLB All-Star Game 2017: Start Time, Live Stream Info, Complete Rosters For Both AL And NL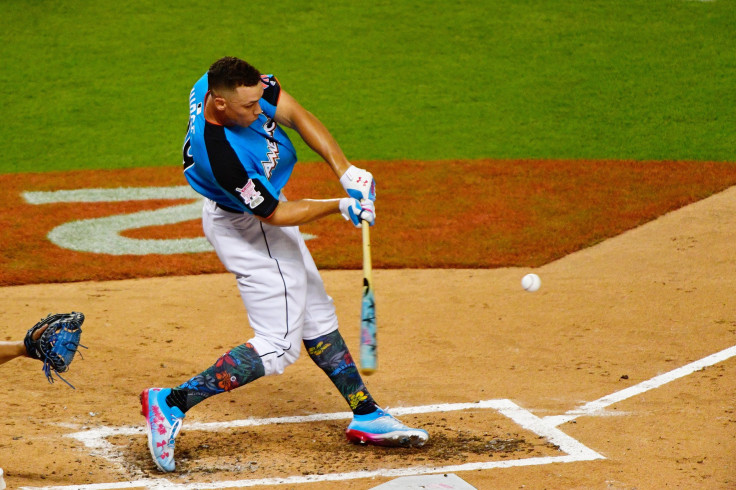 One day after wowing baseball fans in the Home Run Derby, Aaron Judge will take center stage, once again. He'll lead the American League in the 2017 MLB All-Star Game Tuesday night at Marlins Park in Miami.
The contest is scheduled to start at 8 p.m. EDT, though the first pitch will be thrown much later than that because of the introductions. FOX will have the TV broadcast, and a free live stream will be available online with FOX Sports Go.
READ: MLB All-Star Game 2017 Prediction, Betting Odds
Judge will hit third for the AL, hoping to help the team win its fifth game in as many years. The National League hasn't been victorious in the All-Star Game since 2012 when they recorded an 8-0 shutout win. The AL has lost just three of the last 20 All-Star Games, dominating home-field advantage in the World Series, as a result.
Home-field advantage won't be on the line in Miami, however, marking the first time since 2002 when the game infamously ended in a tie. That will likely change the strategy of the two managers, and just about everyone on the rosters could get some playing time.
Several original members of the team had to be replaced because of injuries or extenuating circumstances. Pitchers that started Sunday are not allowed to play Tuesday. That means All-Stars Clayton Kershaw, Yu Darvish, Michael Fulmer and Corey Kluber won't suit up.
Starlin Castro, Dallas Keuchel and Mike Trout were replaced because of injuries. Trout was the leading vote-getter before going on the disabled list for the first time in his career.
Here is a look at the complete All-Star rosters for both the AL and NL:
AL Starting Lineup NL Starting Lineup
2B Jose Altuve, Astros CF Charlie Blackmon, Rockies
3B Jose Ramirez, Indians DH Giancarlo Stanton, Marlins
RF Aaron Judge, Yankees RF Bryce Harper, Nationals
LF George Springer, Astros C Buster Posey, Giants
SS Carlos Correa, Astros 2B Daniel Murphy, Nationals
1B Justin Smoak, Blue Jays 3B Nolan Arenado, Rockies
DH Corey Dickerson, Rays 1B Ryan Zimmerman, Nationals
C Salvador Perez, Royals LF Marcell Ozuna, Marlins
CF Mookie Betts, Red Sox SS Zack Cozart, Reds
P Chris Sale, White Sox P Max Scherzer, Nationals
AL Reserves NL Reserves
C Gary Sanchez, Yankees C Yadier Molina, Cardinals
3B Miguel Sano, Twins SS Corey Seager, Dodgers
OF Michael Brantley, Indians 3B Jake Lamb, Diamondbacks
2B Jonathan Schoop, Orioles OF Michael Conforto, Mets
1B Yonder Alonso, Athletics OF Cody Bellinger, Dodgers
DH Nelson Cruz, Mariners 1B Paul Goldschmidt, Diamondbacks
2B Robinson Cano, Mariners 1B Joey Votto, Reds
OF Avisail Garcia, White Sox OF Giancarlo Stanton, Marlins
SS Francisco Lindor, Indians 3B Josh Harrison, Pirates
OF Justin Upton, Detroit Tigers OF Ender Inciarte, Braves
3B Mike Moustakas, Royals 2B DJ LaMahieu, Rockies
3B Justin Turner, Dodgers
AL Pitchers NL Pitchers
Ervin Santana, Twins Alex Wood, Dodgers
Jason Vargas, Royals Carlos Martinez, Cardinals
Chris Archer, Rays Robbie Ray, Diamondbacks
Andrew Miller, Indians Greg Holland, Rockies
Craig Kimbrel, Red Sox Kenley Jansen, Dodgers
Chris Devenski, Astros Zach Greinke, Diamondbacks
Luis Severino, Yankees Stephen Strasburg, Nationals
Dellin Betances, Yankees Wade Davis, Cubs
READ: MLB Expert World Series 2017 Predictions
Brandon Kintzler, Twins Brad Hand, Padres
Roberto Osuna, Blue Jays Corey Knebel, Brewers
Lance McCullers Jr., Astros Pat Neshek, Phillies
© Copyright IBTimes 2023. All rights reserved.