MLB Megatrade: Did The Padres Give The Nationals Too Much For Juan Soto, Josh Bell?
The San Diego Padres have won the Juan Soto Sweepstakes, reportedly agreeing to a blockbuster trade Tuesday with the Washington Nationals. In acquiring one of baseball's top stars, the Padres gave up a slew of promising young players and highly touted minor leaguers.
In exchange for Soto and first baseman Josh Bell, the Padres sent starting pitcher MacKenzie Gore and shortstop C.J. Abrams, as well as prospects Robert Hassell III, James Wood and Jarlin Susana. Another player, possibly first baseman Eric Hosmer, could go to the Nationals once the deal becomes official.
The Padres outbid the St. Louis Cardinals and Los Angeles Dodgers by giving up assets that have contributed in 2022 and were expected to be a big part of their future in 2023 and beyond. While landing Soto and Bell may be a significant boost to the final stretch of the season, General Manager A.J. Preller appears to be taking a big risk in giving up top young players.
Did the Padres give up much for Soto and Bell?
The next few years will determine whether or not the trade was worth it. Soto is signed through the 2024 season. The Padres are hoping that he can be the missing piece that pushes the franchise over the top for its first-ever World Series championship.
All five of the players who are headed to Washington have high expectations. Gore and Abrams were San Diego's best prospects and listed among the top eight prospects in all of baseball last year before being called up to the big leagues. Hassell and Wood are the Padres' No. 1 and No. 3 prospects, respectively, according to MLB.com. Susana is just 18 years old and signed with San Diego earlier this year.
Gore's rookie season has been much better than his 4.50 ERA might indicate. A few bad starts have inflated the 23-year-old's ERA after going through early June with a 1.50 ERA. Gore has pitched at least five innings and given up one run or fewer in eight of his 13 starts.
Abrams was a popular preseason pick for 2022 NL Rookie of the Year. The shortstop is only 21 years old and hit .314 in a 30-game stint at Triple-A this season.
San Diego selected Hassell with the No. 8 overall pick in the 2020 MLB Draft. The outfielder is hitting .301 in his young minor-league career.
Wood stands at 6-foot-7 and 240 pounds. He has a 1.054 OPS in 50 Single-A games. Susana throws 98 mph with high upside as a reliever.
Even though Soto is under contract for multiple seasons, the trade puts increased pressure on San Diego in 2022. Bell will be a free agent after this season. The veteran first baseman could be a rental for the Padres, considering the team has one of MLB's highest payrolls and might be preparing to offer Soto a record-setting contract extension before his current deal is up.
Soto is likely to decline any extension offers and test free agency, as the vast majority of agent Scott Boras' clients hit the open market. The Padres have shown a willingness to spend big money, but it remains to be seen if ownership is ready to have three $300 million-plus contracts on the books.
Soto recently turned down Washington's 15-year deal worth $440 million, according to reports. He will almost certainly receive a long-term deal worth north of $400 million.
Manny Machado signed a 10-year, $300 million contract with the Padres in 2019. Last year, the Padres inked Fernando Tatis Jr. to a 14-year, $340 million extension.
San Diego's deadline deal hasn't made them the National League favorites. The Los Angeles Dodgers have all but wrapped up the NL West title with a 12-game lead on the Padres. San Diego still has work to do in clinching a wild-card berth. The Padres have a three-game edge on the St. Louis Cardinals, the first team out of the playoff picture at the trade deadline.
Soto is one of MLB's best players, regardless of age. The power-hitting outfielder was the 2021 NL MVP runner-up and one of the top contributors to Washington's 2019 championship team. If Soto helps deliver San Diego a title, the trade will have been worth the cost.
Will Preller have buyer's remorse? If the Padres don't win a championship and Soto heads elsewhere in free agency after the 2024 season, the trade could haunt San Diego for many years to come.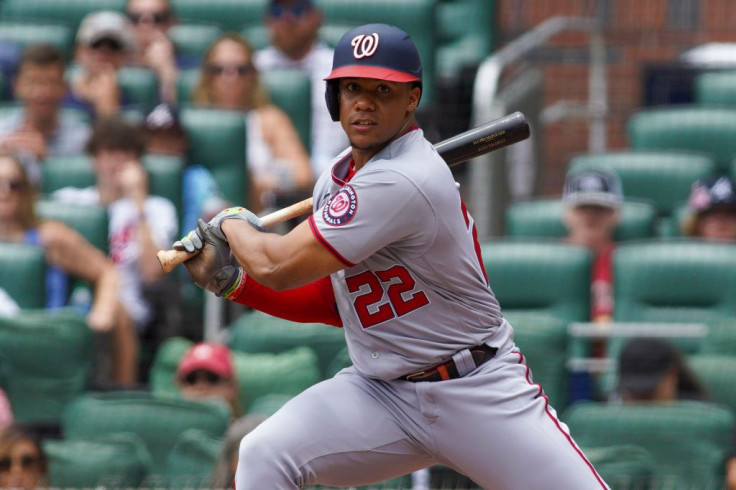 © Copyright IBTimes 2023. All rights reserved.