MLB Rumors: Astros 'Had Complained' To League About Too Much Taunting
KEY POINTS
The Houston Astros were constantly jeered during their first visit to the Yankee Stadium since the 2017 scandal
Yankees fan David Taub made a shocking revelation after being approached by security
Astros manager Dusty Baker commented on the team's loss to the Yankees
The Houston Astros may have already been working on an attempt to control the ongoing criticisms from MLB fans across the United States.
As expected, the Astros had an unforgettable experience on Tuesday as they made their first visit to the Bronx since the sporting world learned about the team's 2017 cheating scandal.
Avid Yankees fan David Taub, who arrived at the Yankee Stadium at 5 p.m. with a green fur around his arms, a black "Trashstros" T-shirt and a garbage can hanging from his waist to his ankles, stole the show as his plan to taunt the Astros worked perfectly.
While Taub successfully got the crowd going, he also drew attention from the event security as well.
A few days before the game, Taub got a confirmation from the Yankees that he could wear the said costume inside the stadium.
However, after being approached by the security, Taub said that one of the guards told him "our policy changed," Sports Illustrated reported.
Taub further bared that the guard also said the "Astros had complained to MLB about fans in other cities, and MLB had told the Yankees to tighten their rules."
Like some baseball fans think, Taub simply thought that the Astros deserve more than just the punishment they received from the MLB for what they've done.
"I don't feel that they got punished enough, and that's what the fans are here to do," Taub said before the game. "[MLB Commissioner] Rob Manfred didn't do his job, so we're here to do it for him."
In the end, the Yankees were able to beat the Astros 7-3. After the game, the latter club's manager Dusty Baker shared a bold claim about his team's loss.
According to Baker, the New York crowd's constant taunting may have contributed to Astros second baseman Jose Altuve's underwhelming and hitless performance.
"The fans were extremely hard on [Jose] Altuve tonight," Baker told reporters in his post-game conference. "He's exerting a lot of effort, maybe too much effort."
After all said and done, the veteran coach and former hard-hitting outfielder was still thankful that the continuous jeers didn't escalate into something more serious or even violent.
"At least there wasn't any violence," the 71-year-old stressed.
"They can say whatever they want," he continued. "It sounded like a packed house tonight even though it wasn't. We expected that reception, so we'll get more of the same tomorrow and the next day."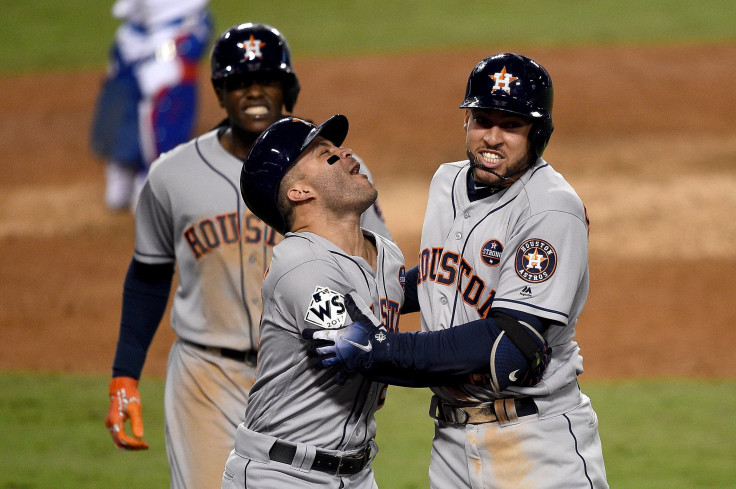 © Copyright IBTimes 2023. All rights reserved.