MLB Rumors: Giants Consider Re-Signing Former Player Hunter Pence
KEY POINTS
Giants considering former player Hunter Pence
Pence could be short-term fix
Pence can address Giants' outfield problems
The San Francisco Giants are in need of an outfielder with several candidates available. But rather than gamble on a new face, there is a possibility of another former player coming home. If it happens, that player could be the second former Giant to return to San Francisco.
The player in mention is no other than Hunter Pence. The 36-year-old is a four-time All-Star played for the Texas Rangers last season and hit .297 with 18 homers and a .910 OPS, NBC Sports reported. The thing about Pence is that he was limited to just 83 games last MLB season due to a back injury.
Regardless of his injury history, the MLB Network reveals that there are several teams in pursuit of the right fielder. So far, only the Giants have been identified and Pence could fit the bill. It is no secret that San Francisco is looking for an outfielder as they rebuild the franchise. But is he a long-term fix?
The last time Pence suited up for the Giants, he was highly productive. However, he showed signs of slowing down towards the last two seasons in San Francisco but turned things around in 2019. Despite his limited exposure, the native of Texas has shown that he still has the legs to show. To back that up, numbers show that Pence ranked in the 84.7th percentile in average sprint speed last year.
Regardless, Pence could be a short-term solution and someone who could help out in the Giants' rebuilding process. With him and Sandoval back in the fold, the reunion would be something fans would appreciate for now. As far as longevity, their tenure leaves a big question mark on the table.
As mentioned in a previous post, Sandoval agreed to a minor-league arrangement. He will not be the first option and being called up depends on how Evan Longoria's health pans out. Sandoval and Pence could be backups and mentors to the young players the Giants intend to take in. The durability of both is up in the air, not to mention their ages. Either way, the homecoming would be sweet but is not expected to last very long.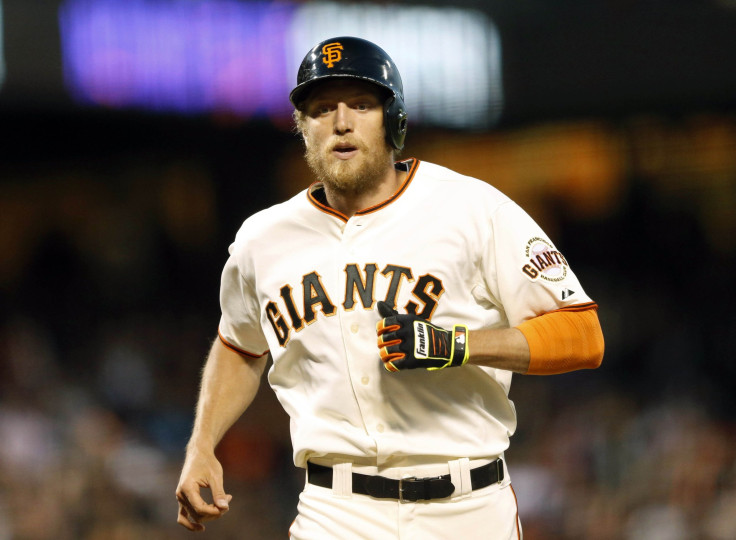 © Copyright IBTimes 2023. All rights reserved.