Boxing: Freddie Roach Prepping Undefeated Filipino Boxer Mark Magsayo For Bigger Things
KEY POINTS
Magsayo is not tied to any promoter yet
Roach is Magsayo's official coach
Sean Gibbons will meet Magsayo in the Philippines this February
The Philippines is home to plenty of promising future stars in boxing. Most know Manny Pacquiao, Nonito Donaire, and Jerwin Ancajas. What about this undefeated pug from Bohol?
Mark Magsayo, nicknamed "Magnifico," is only 24 years old. The Filipino was in the spotlight for all the wrong reasons the past years following a contract dispute with his former handlers. After almost two years of being grounded, the pride of Bohol finally got back into the ring and was amply rewarded for it.
Magsayo was part of the August boxing event in the Philippines titled "Pride of Bohol." He faced Panya Uthok of Thailand and won via unanimous decision. The victory earned him the WBC Asia featherweight belt, a fitting reward for the comebacking boxer. However, Magsayo knows he needs to make wiser moves moving forward. To be the best, he must be trained by the best.
From that, it looks like the 24-year-old plans to put his boxing career on the right track this 2020. Though he has no scheduled fights yet, Magsayo has started training under a familiar boxing name in Freddie Roach. The Boholano shared photos of him with Roach at the Wild Card Boxing Club in Hollywood, California, with a lot of boxing followers taking notice.
In an exclusive interview at brianyalung.com, Magsayo set the records straight. He confirmed that he is now officially being handled by Roach as he tries to boost his boxing career once more.
"Coach Freddie (Roach) will be my official coach. All my training will be handled by him," said Magsayo.
He also revealed that they are still choosing on who his conditioning coach will be. A decision is expected to be made in the coming months.
"Even my conditioning, it will be at Wild Card now. But we have yet to choose a conditioning coach," Magsayo said.
And while things seem to be going right for the promising young boxer, he made it clear that he has yet to sign with a new promotion. Magsayo has learned his lesson last time out and now he wants to take the cautious approach before signing the dotted line.
In a report (which was later on edited), Magsayo said that he is not yet with MP Promotions which is owned by boxing icon Manny Pacquiao. Everything is under discussion and he will meet with Sean Gibbons this coming February.
"Sean Gibbons of MP said he wants to talk to me when we come home. I said okay," Magsayo said.
Magsayo said that aside from MP Promotions, there are several other groups he is talking with. And once he does make a choice, it will likely indicate when he will return to the boxing ring and stake his undefeated boxing record.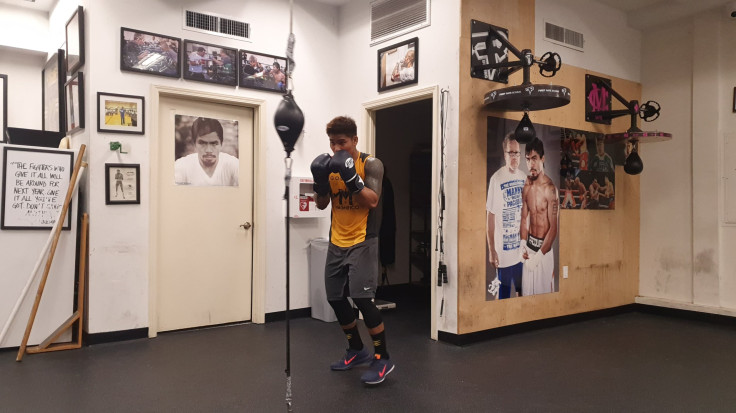 © Copyright IBTimes 2023. All rights reserved.