MLB Standings 2022: Yankees' Losing Streak Gives Rays, Blue Jays Life In AL East
The New York Yankees continue to lose, suddenly creating some drama in the AL East. What was once a seemingly insurmountable lead atop the division has now been cut to single digits with a month and a half still left in the 2022 MLB season.
The Tampa Bay Rays beat the Yankees 3-1 Tuesday, earning a second straight victory in the Bronx. Tampa pulled within nine games of New York in the AL East standings, and they trail the Yankees by just eight games in the loss column.
Shortly before the All-Star break, the Yankees had a 15-game lead in the AL East, on pace to break MLB's single-season wins record. New York has completely fallen apart since July 9, posting an 11-22 record over that span. It's the third-worst winning percentage in baseball during that time.
The Yankees have lost five straight series.
It isn't just the Rays that the Yankees have to worry about. The Toronto Blue Jays are in third place and 10 games behind New York. The Baltimore Orioles are hanging around, trailing the Yankees by 10.5 games.
The Boston Red Sox are in last place and 14 games behind their rivals.
The Yankees have been even worse recently, going 2-11 over their last 13 games. New York had been shutout in back-to-back games before putting up a single run Tuesday. The Yankees still have the American League's highest-scoring offense, but they've been held to just nine total runs over the last seven games.
Outfielder Estevan Florial is reportedly being called up to the major-league roster from the Yankees' Triple-A affiliate. New York hopes the 24-year-old can provide a spark to a struggling lineup. Florial is has an .858 OPS and 14 home runs in 89 Triple-A games.
Injuries are piling up for the Yankees on the mound and in the lineup. Florial could get extended playing time as long as Giancarlo Stanton remains off the field. Stanton is hoping to return from the injured list soon, but he hasn't played since late July because of a sore Achilles.
Second baseman DJ LeMahieu hasn't played since Saturday because of a toe injury. Matt Carpenter, who has 15 home runs in 47 games, could be done for the year.
Closer Clay Holmes is headed to the IL because of tightness in his back. Holmes was one of MLB's best relievers before the All-Star break. After posting an ERA below 1.00 in the first three months of the season, Holmes has surrendered 11 earned runs in his last 12.1 innings pitched.
The Houston Astros have a 2.5-game lead on the Yankees in the AL standings for the No. 1 seed.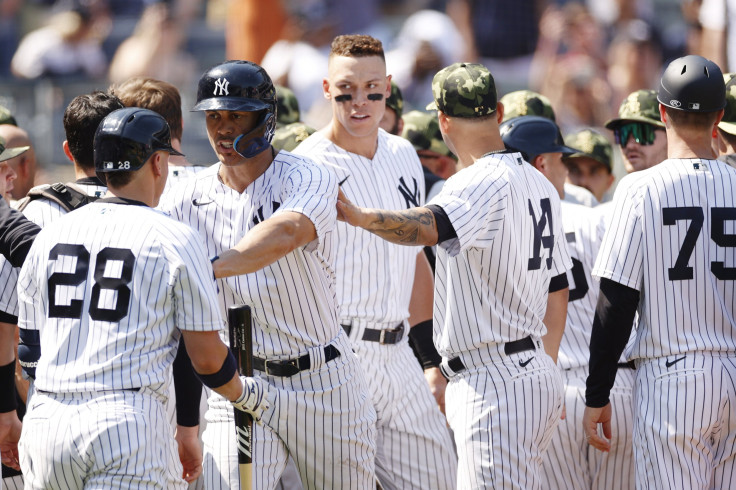 © Copyright IBTimes 2023. All rights reserved.