MLB Trade Predictions For Mookie Betts, Kris Bryant, Nolan Arenado, Francisco Lindor In 2020
Gerrit Cole, Stephen Strasburg and Anthony Rendon have been off the market for some time, but there are still plenty of superstars available. Some of the best players in baseball have been in trade rumors ahead of the 2020 MLB season.
Mookie Betts, Kris Bryant, Nolan Arenado and Francisco Lindor can all be had for the right price. The Boston Red Sox and Chicago Cubs are both reportedly looking to shed payroll, and they might just trade their best players to do it. The Colorado Rockies and Cleveland Indians have pursued deals for stars that might head elsewhere in a couple of years.
Here are trade predictions for each player. The superstars are ranked based on their likelihood of being dealt.
1) Nolan Arenado
Arenado was clearly at the bottom of this list when the offseason began. Things have drastically changed this winter to the point that The Athletic's Ken Rosenthal believes a trade might be inevitable. Sources told MLB.com's Jon Morosi last week that there's a 50% chance Arenado gets dealt. ESPN's Jeff Passan noted that the Cubs and St. Louis Cardinals have "intrigued" the Rockies as they search for trade partners.
It was only a year ago that Arenado inked an eight-year, $260 million extension with Colorado, seemingly solidifying his role as the Rockies' third baseman for the foreseeable future. But a fourth-place finish for the team in 2019 and the opt-out clause in Arenado's contract after the 2021 season means a deal might make sense for both sides.
Arenado hit .315/.379/.583 with 41 home runs last season. He's made five straight All-Star teams with a top-8 NL MVP finish in each of those seasons.
Prediction: Traded before Opening Day
2) Kris Bryant
The expectation all offseason has been that the Cubs would trade one of their top players. Before the Winter Meetings, executives told ESPN that Chicago was "aggressive" and "motivated" to deal someone, though the league continues to wait for the Cubs to make a move. Anthony Rizzo, Kyle Schwarber and Willson Contreras are options, but Bryant would bring back the biggest return, by far.
If he loses his service-time grievance (as expected), Bryant will be under team control for two more years before hitting free agency. The third baseman will make $18.6 million in 2020 and potentially around $25 million for his final arbitration season. Trading Bryant would accomplish Chicago's goal of improving its minor-league system and shedding payroll. The Los Angeles Dodgers seem like the most logical trade partner in their pursuit of an elite third baseman. L.A. failed to sign Rendon, and Colorado is unlikely to trade Arenado within the division.
Bryant hit .282/.382/.521 with 31 home runs last season. He's made the All-Star team in three of his five MLB seasons and won the 2016 NL MVP award.
Prediction: Traded before Opening Day
3) Francisco Lindor
A Lindor trade seems to be a matter of if not when. The clock on the shortstop's time in Cleveland unofficially began to tick last year when Indians owner Paul Dolan told fans to "enjoy" Lindor while they have him, in an interview with The Athletic. The organization explored the trade market for the 26-year-old last month, and it appears likely that he'll start the 2020 season in an Indians' uniform.
Lindor is signed through the 2021 season. It seems like a near certainty that he'll be dealt at some point before then. It makes the most sense for the Indians to trade their star during the 2020 season to maximize his value. That's exactly what the team did last July with Trevor Bauer, dealing the pitcher to the Cincinnati Reds with one and a half years of team control remaining. As contenders emerge during the season, a suitor could increase its offer and force Cleveland to bite.
Lindor hit .284/.335/.518 with 32 home runs last season. He's made four straight All-Star teams with three top-9 AL MVP finishes.
Prediction: Traded before July 31 deadline
4) Mookie Betts
The Red Sox appear even more concerned than Chicago with cutting expenses, and it's why Betts has been in trade rumors since the 2019 World Series ended. The 2018 champions are projected to be nearly $20 million north of the $208 million luxury-tax threshold. Betts will earn $27 million in the upcoming season, which is the last year of his contract. Trading the outfielder would allow Boston to both shed salary and avoid losing Betts for nothing as a free agent next winter.
Getting close to equal value for Betts is impossible when he's signed for just one more season. He's expected to test free agency, where he could get a $400 million contract. Maybe if the Red Sox are clear non-contenders they will trade him in July for some prospects, much like the Baltimore Orioles did with Manny Machado in 2018. But for now, there doesn't seem to be much logic in Boston trading its best player.
Betts hit .295/.391/.524 with 29 home runs last season. He's made the All-Star team in four straight years to go along with the 2018 AL MVP award, a second-place MVP finish in 2016 and two top-eight finishes.
Prediction: Not traded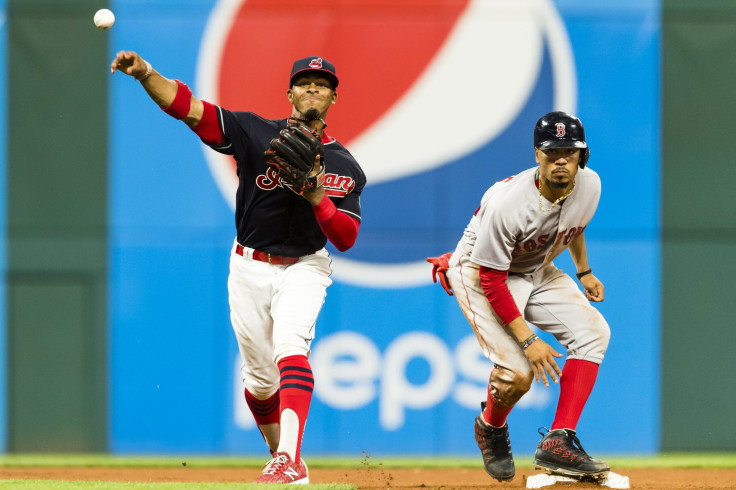 © Copyright IBTimes 2023. All rights reserved.