MLB Trade Rumors: Blue Jays Could Deal Josh Donaldson Before 2018 Waiver Deadline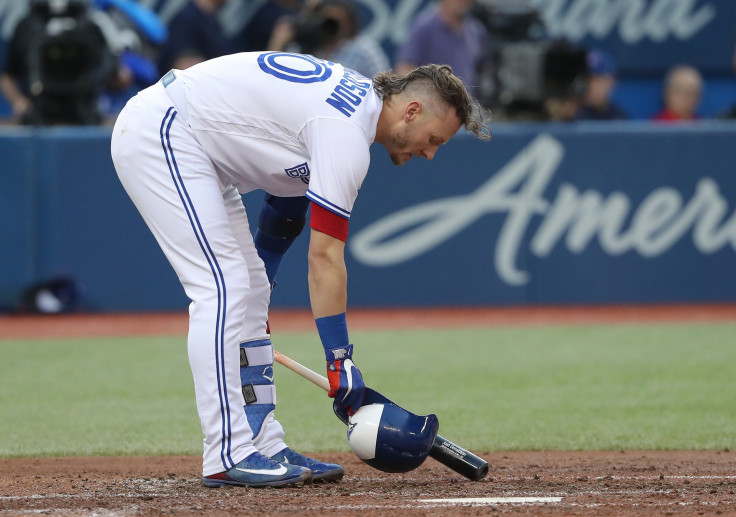 When it comes to players that could still be moved following the 2018 MLB trade deadline, Josh Donaldson might be the most intriguing. The Toronto Blue Jays will likely deal the third baseman for the right price as he works his way back from an injury that has cost him most of the season.
Donaldson, 32, has been involved in trade rumors since the offseason because of his impending free agency. Toronto became sellers before July 31, dealing the likes of J.A. Happ and Roberto Osuna, though Donaldson stayed put as he remained on the disabled list.
It might not be long before Donaldson is back on the field, and he's expected to clear waivers because of the nearly $8 million he's owed over the final two months of the season. Blue Jays general manager Ross Atkins told reporters after the non-waiver trade deadline that Toronto had "a lot of discussions" about Donaldson, and interest in the three-time All-Star could be renewed once he starts playing in games again.
Few MLB players were more productive than Donaldson from 2013-2017. He had three top-four MVP finishes during that span, including 2015 when he won the award by leading the majors in RBI and total bases. Donaldson's average season in the last five years featured a .281/.377/.526 slash line with 33 home runs in 148 games played.
A shoulder injury and most recently a calf injury has slowed down the perennial MVP contender in 2018. Donaldson is hitting .234/.333/.423 with five homers and 16 RBI in just 36 games. He last played on May 28.
A healthy Donaldson could prove to be a major asset for a team in a pennant race. After missing much of last year's first half with an injury, the veteran finished the season strong, posting a .992 OPS with 24 home runs after the All-Star break.
The St. Louis Cardinals reportedly made a strong push to acquire Donaldson in the winter, though the Blue Jays had aspirations of contending in 2018 and didn't make a trade. St. Louis is 4.5 games out of the wild-card race and 7.5 games behind the Chicago Cubs for first place in the NL Central.
The Cleveland Indians reportedly had interest in making an upgrade at third base before the deadline. The same goes for the Boston Red Sox, though third baseman Rafael Devers could soon come off the disabled list and the team bolstered their infield by adding Ian Kinsler last week.
Donaldson has to be traded by Aug. 31 in order to be eligible to play in the postseason.
© Copyright IBTimes 2023. All rights reserved.