MLB Trade Rumors: Pirates, Marlins Dealing More Players Before 2018 Season?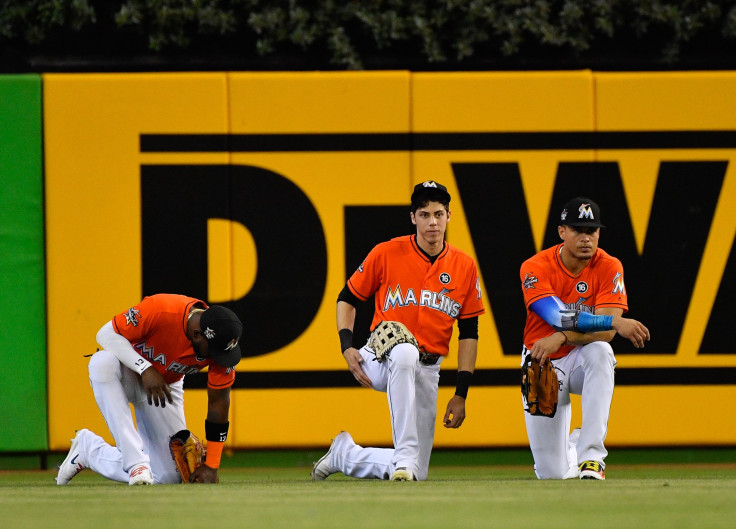 MLB teams usually wait until the trade deadline before becoming "sellers" and sending away their best players. The Miami Marlins and Pittsburgh Pirates began the process of unloading stars well before the start of the 2018 season, and more deals could be on the way.
According to the latest trade rumors, Miami has had discussions about dealing outfielder Christian Yelich. In Pittsburgh, it's infielder Josh Harrison that could be moved.
Both players are ready to end their time with their respective organizations. Yelich's agent told ESPN that his client's relationship with the Marlins is "irretrievably broken" after watching the team trade Giancarlo Stanton, Marcell Ozuna and Dee Gordon in December. Harrison released a statement to The Athletic Tuesday, expressing his desire to play for a contender now that the Pirates have traded Gerrit Cole and Andrew McCutchen.
There might be a good chance that Yelich will get his wish. Miami has committed to rebuilding with younger, cheaper players, and they don't expect to reach the playoffs in the foreseeable future. Yelich could bring the Marlins some valuable prospects because of his career .290 batting average and .801 OPS.
Yelich is only 26 years old and signed through the 2022 season. According to MLB Network's Peter Gammons, the Marlins asked the Atlanta Braves for top prospect Ronald Acuna in trade talks regarding Yelich.
Miami is also exploring possible deals for J.T. Realmuto, who reportedly asked to be traded. The 26-year-old catcher hit 17 home runs with a .783 OPS in 2017.
Pittsburgh doesn't seem to have the same level of motivation to make any more trades. While Miami understands that they won't contend next year, the Pirates haven't given up on the 2018 season.
"In our minds, a rebuild implies you're looking five years down the road," Pittsburgh general manager Neal Huntington told reporters Monday after the Pirates traded McCutchen to the San Francisco Giants. "This team is going to show up ready to go in spring training, ready to compete, ready to defy odds, just like that 2013 Pirates team did."
It's going to be difficult for the Pirates to contend for much of next season. The team traded their best hitter and best starting pitcher following a 75-win season, and Pittsburgh has finished below .500 in each of the last two years. They've got to compete in the NL Central with the Chicago Cubs and St. Louis Cardinals, who could be among the National League's best teams.
Harrison, 30, is valuable because of his ability to play the infield and outfield. He hit .272 with 16 homers and 47 RBI last season.
The New York Mets, New York Yankees and Milwaukee Brewers have reportedly shown interest in Harrison. If Pittsburgh holds onto him this offseason, he could become available before the trade deadline.
© Copyright IBTimes 2023. All rights reserved.