MLB.com's Censoring Of Mark Buehrle Is Seriously Misguided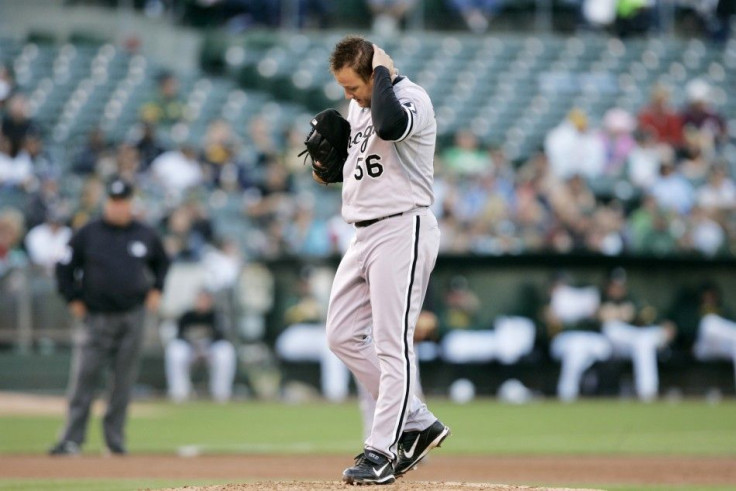 MLB.com has apparently scrubbed a quote by Chicago White Sox Mark Buehrle in which the pitcher says there were times this NFL season where he hoped Philadelphia Eagles quarterback Michael Vick would get hurt.
Buehrle and his wife Jamie are dog lovers. The two started a program called Sox For Strays and are part of a Purina-sponsored animal rescue campaign called Adopt A Pet which has billboards around the Chicago-area which feature the couple.
MLB.com has a profile of the Buehrles' animal advocacy efforts, but according to The Chicago Tribune, Major League Baseball's website redacted a quote by the White Sox lefty concerning Michael Vick and his history with animals. In the MLB.com story, neither Mark nor Jamie makes a direct reference to Vick. Jamie does say that each story of animal abuse she hears is worse than the previous one which causes her to lose faith in humanity because [she doesn't] understand how people can do that to innocent animals.
In a previous version of the story, Mark Buerhle acknowledged that Vick had served time for his involvement in a dogfighting ring in his hometown of Newport News, Va., but Buerhle had not forgiven Vick and wished him harm.
He had a great year and a great comeback, but there were times where we watched the game and I know it's bad to say, but there were times where we hope he gets hurt, Buehrle said. Everything you've done to these dogs, something bad needs to happen to these guys.
Buerhle's words are those shared by many in America. It's no secret that people love dogs and can't fathom the things that Vick and his accomplices did to dogs or forced dogs to do. On the contrary, many would agree that Vick already had something bad happen to him. He went to federal prison for 18 months. He forfeited his $100 million contract with the Atlanta Falcons. He's given every indication that he regrets what he did.
Vick has rebuilt his life and his career. But as exciting as he is on the field, no matter how many fans buy his jersey, not everyone is going to forgive him or forget the reasons he's being lauded for making a comeback.
At the same time, MLB.com probably should not have removed Buehrle's comments from their story. While his views are controversial, they buttress his image as an animal lover, albeit a fanatical one. Buehrle's comments might make some uncomfortable, but they are in line with what has been said about Vick since his release from Fort Leavenworth Prison.
MLB.com's censoring of Buehrle makes his seem less human, less of a real person outside of the dugout. Or, it does the exact opposite of what the story intended to do in the first place.
© Copyright IBTimes 2023. All rights reserved.