MLK Day 2015: Martin Luther King Jr.'s Message Thrives In Spite Of Legacy-Carrying Heirs' Legal Battles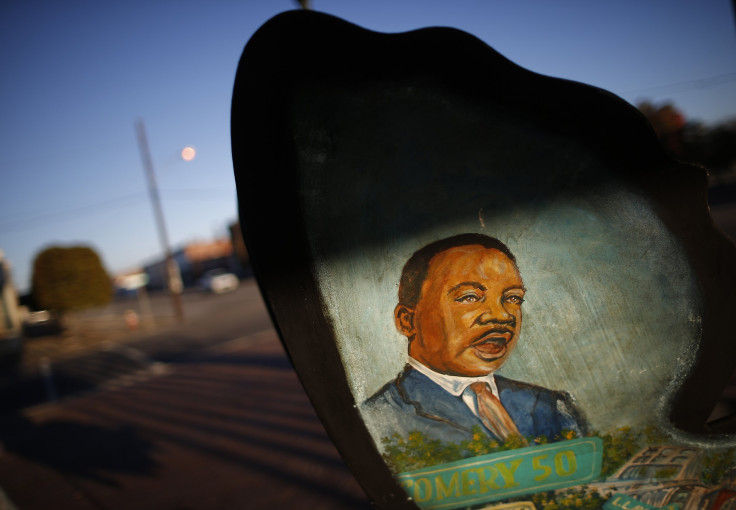 At the height of his work as a pre-eminent leader of the civil rights movement that won him the Nobel Peace Prize, the Rev. Martin Luther King Jr. rarely traveled without his personal copy of the Bible. Now, decades after King's assassination, the heirs of the Georgia pastor who preached justice and peace are fighting over whether to sell the Bible and Nobel medal to a private buyer. People connected to King's children, and those who have watched them from afar, say the family's infighting over how to make money from his life's work has cast an unflattering shadow over one of the nation's most storied families and the charity started by their late mother.
The adult children run a museum in Atlanta to promote their father's legacy and control the estate that has dominion over their father's story, his words and many of his possessions. But the ripple effects of those fights, some say, hamper the ability of the family's charity to seek support from donors and experts have raised questions about its management. The King family drama also affected the production of the recently released motion picture "Selma," which depicts one of the most pivotal King-led actions, when sale of the rights to their father's story revealed yet another rift among the siblings.
"I send the family my highest regard, but they are hurting us," said Frank Weston, founder and CEO of International Multiracial Shared Cultural Organization. "The legacy is not being handled properly and they need to be criticized about it." Weston, whose organization does work with the U.N. on the African diaspora, said he almost boycotted "Selma" because of the heirs' disputes, which he said were motivated by greed.
Weston said King's message was broader than civil rights, and the stewards of his legacy give little focus to his outspokenness on the Vietnam War and issues on the continent of Africa. Instead, King's heirs "are grabbing for wealth and resource that is not rightfully theirs. It's not just for Atlanta. It's for the global community. It's for people of African descent. It's like stealing what you already own," he said.
Ahead of the 32nd observation of the Martin Luther King Jr. national holiday, the family's bickering was on public display last week when members appeared in court for the ongoing battle to force one of King's daughters to relinquish control of their father's "traveling Bible" and the Nobel Peace Prize medal awarded to him in 1964. The daughter has accused her brothers of trying to sell the bible and medal to a private buyer to raise money for the King estate, which reportedly suffers without a reliable revenue stream. A judge in Fulton County Superior Court in Georgia heard the case Tuesday, but did not rule and suggested the matter could go to trial next month. The case marked the latest legal jousting for the King children, who have sued each other in court more than a handful of times over disputes about the use of their father's work and over what to do with some of his most prized possessions.
Clayborne Carson said the King heirs get a worse rap than they deserve. Carson remembers vividly the moment in the 1980s that he received the opportunity of a lifetime from Coretta Scott King, the late civil rights icon's widow. She handed Carson her slain husband's personal writings and papers and told him to study them, edit them and find a way disseminate the icon's ideas of nonviolence in pushing for social change. Carson would go on to create the Martin Luther King Jr. Research and Education Institute at Stanford University in California in 2005. "The King Institute would not exist, except for Coretta," Carson said. "I couldn't have just woken up one day and decided to become editor of Dr. King's papers."
But he admitted not every one of his dealings with the King family has been pleasant. Because of his friendship with King's widow, Carson, 70, said he knows the King children pretty well. Carson's continued work on King's legacy and making elements of it electronically available on the institute's website all come with the blessing of the King family. He said the family's decades-long disagreements are just that, and are not a betrayal of King's philosophy. "I know that each of them believes that they know what's in the best interest of their father's legacy," Carson said. "They just happen to disagree about what is in the best interest. That's not that unusual in families."
As a nonprofit organization, the family's charity spends 57 percent of its funding on programming and 43 percent on administrative costs, according to an analysis of the center's tax filings done by the charity rating service, Charity Navigator. Generally speaking, a best practice for nonprofits is to spend 75 percent on programming and 25 percent on administrative costs, a Charity Navigator spokeswoman said.
More than 50 years after King's historic accomplishments, signs of his legacy are placed prominently around the nation. There are more than 650 streets in the U.S. that bear the civil rights icon's name, National Public Radio reported. Many more schools, senior centers and food pantries carry his name. But lots of organizations use the name without the King estate's permission. The King memorial in Washington -- a 30 foot tall monument sculpture of the icon that sits on a 4-acre site -- was dedicated in 2011 after the King estate was paid a reported $800,000 licensing fee by the foundation created to build it.
Harry Johnson Sr., CEO and president of The Memorial Foundation, which raised $127 million to build the monument, said the outpouring of support and donations spoke to how big a hero King still is for people around the world. "There's no question about it -- people thought so much of him that they wanted to put him out there with Thomas Jeffereson, Abraham Lincoln and George Washington," Johnson said.
Barbara Andrews, who directs educational programming at the National Civil Rights Museum in Memphis, Tenessee, said "severe restrictions" imposed by the family on how to use King's likeness and words present challenges for the museum. "It is very difficult to get permission" for new programming involving the King's work, Andrews said. "That has not distracted from our work. So we continue to talk about his contribution to the movement. We have the right to talk about why this space is of particular significance," she added, referring to the museum's location in the former Lorraine Motel, the site of King's assassination. The museum reopened six months ago after an eight-month renovation project and expects to welcome 5,000 visitors Monday.
"We know his name, we know his birthday, and we know a few facts about him, but there is more to know," Andrews said. "Our work is ahead of us. We need to know more about why the movement was successful. That kind of knowledge will help us move forward in our modern challenges."
The Martin Luther King Jr. Center for Nonviolent Social Change, headed by Bernice King, his daughter, and the Estate of Martin Luther King Jr. Inc., managed by his sons, Martin Luther King III and Dexter Scott King, did not respond to interview requests for this article.
Widely referred to as The King Center, the organization was started in 1968 in the icon's home state of Georgia, following his assassination that year in Memphis. The Atlanta organization had its first headquarters in the basement of the King family home where his personal papers and other seemingly priceless items were stored. The center later evolved into a museum campus connected to the Martin Luther King Jr. National Historic Site near downtown Atlanta. Some of King's items were on loan to institutions around the U.S. although always under some control by the estate.
Language on its website suggests the King Center is in transition. A renovation of the Atlanta campus has been planned "to bring the King legacy to a modern audience and [to develop] new programs and partnerships that further Dr. King's work in sustainable, measurable ways worldwide," the website says. The most recent tax filings for the King Center list a "nonviolent community watch" and a summer camp as some of its programming expenses. A King Scholars program is also under development, the website says.
Charity Navigator, the ratings service, bases its scores on the financial health, accountability and transparency to donors, and their ability to produce proof of results from their work. The service has not officially rated the King Center, but its analysts said there are a few concerns. "It's odd that they report zero fundraising expenses, even though the website asks for donations," said Sandra Miniutti, the Charity Navigator spokeswoman.
Tax filings show the center took in $2.26 million in revenue, $971,000 of it in government grants, for the fiscal year 2012-13. The center spent $1.9 million that year. Miniutti said that amount of grant revenue suggests a staff put in significant time to complete paperwork that is not clearly reflected in IRS filings. But she acknowledged there could be a reasonable explanation for that. On a positive note, the King Center has good working capital, or a "rainy day fund we often see museums have," Moniutti said.
She also said highly rated nonprofits have a board of trustees made up of at least five independent voting members, or members who do not have a personal conflict with other trustees. The last IRS filings list a seven-member board that includes Bernice King, Martin Luther King III and Dexter Scott King, the heirs of the icon, along with their cousins, Arturo Bagley and Alveda King, and aunt Christine King Ferris. The only nonfamily member is Andrew Young, the former U.S. ambassador to the U.N. and a close friend of the King family. The filings also show an $86,010 severance was paid to Dexter Scott King during the 2012-13 fiscal year. Miniutti said the disputes between board members of any organization are common, but the impact can be that the organization "loses focus on their core mission." Having at least five independent voting board members can help ensure "the organization is operating ethically," she added.
While Carson, the Stanford University historian, sees no impact of the King heirs' legal battles on the import of their father's legacy, he said their well-publicized disputes have been a turnoff for donors looking to support their work and the work of others who are associated with the Kings. But as far as the King legacy's accessibility, Carson said it's never been a better time to study the icon. "King's ideas are more freely available today than they've ever been -- certainly more than there ever was during his lifetime," he said. "None of that would have been possible without the estate."
Activities of the estate have limited others' work. It's why there was a noticeable absence of King's actual words in "Selma," the Paramount Pictures biopic about the civil rights leader's 1965 march from Selma to Montgomery, Alabama, to win voting rights for blacks in the South. Director Ava Duvernay told the Washington Post last month she didn't ask the King family for the rights to use the icon's actual speeches because they had already been sold to DreamWorks SKG, for a biopic being produced and directed by Steven Spielberg. Sale of those rights drove a wedge among the King heirs in 2009, when Bernice King said she and Martin Luther King III had not signed off on the deal that Dexter King brokered. Bernice and Martin threatened to sue to stop the film from moving forward, The Associated Press reported.
It's not clear whether the lack of speech rights for "Selma" had an impact going into this year's annual awards season in Hollywood. The film, directed by an female African-American director with black actors in leading roles, garnered the Best Original Song award at last weekend's Golden Globes Awards ceremony in Beverly Hills, California. Duvernay was also nominated in the acting category and David Oyelowo received a nod for his portrayal as King. The movie was shut out of the acting and director categories when the Academy Awards were announced Thursday. However, the film is up for Best Picture and Original Song.
FOR FREE to continue reading
✔️ Unlock the full content of International Business Times UK for free
offer available for a limited time only
✔️ Easily manage your Newsletters subscriptions and save your favourite articles
✔️ No payment method required
Already have an account?
Log in
© Copyright IBTimes 2023. All rights reserved.