MLK Day History: Schools Teach Martin Luther King Jr. As A Historical 'Relic'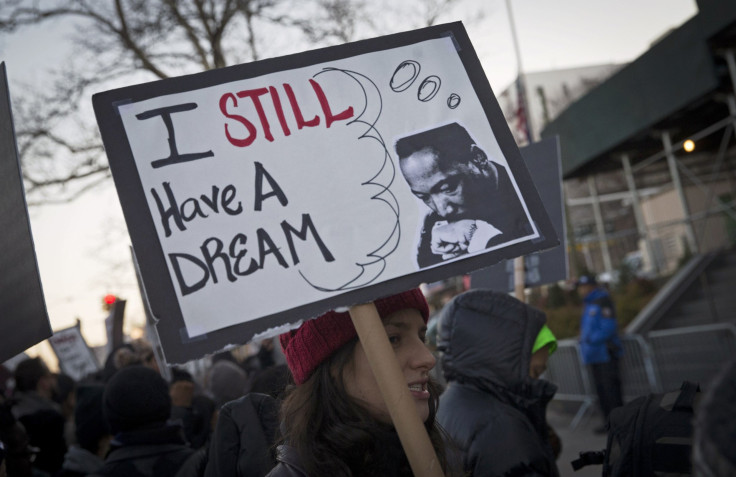 As people around the U.S. prepare to mark Martin Luther King Jr. Day, students have raised the question of how the legacy of the seminal American civil rights figure is being addressed in schools, especially at a time when issues of racial justice rage across the country. Part of the problem, some students argue, is the way schools approach King frames the civil rights leader as a historical figure whose mission was accomplished decades ago instead of using his legacy as a way to examine ongoing issues of racial inequality.
King is often treated as a historical relic in schools, which rarely take the opportunity to capitalize on the federal holiday commemorating his achievements, said Sophia Stern, 17, a senior at Beacon High School in New York. "MLK Day has become the day that people get off of school and that's what they're happy about," she said. "It doesn't really mean what it should mean."
The U.S. has marked the civil rights leader's birthday as an annual federal holiday on the third Monday of January since 1986. The Nobel Peace Prize winning leader was assassinated in Memphis, Tennessee, in 1968 after leading some of the most high profile protests against segregation and racial inequality, including the historic March on Washington at which he delivered his historic "I Have A Dream" speech.
Stern is currently taking an African-American literature class as an elective, which she said has given her a chance to delve into a lot of writing surrounding the civil rights movement in the U.S. However, she said her experience was unique and most of her peers did not have the same opportunity to examine King's legacy beyond their first exposure to the icon. "I don't know if it's because public schools are afraid of discussions of race or if it's just something we didn't really have time to discuss," she said, adding the latter possibility seemed "like a flimsy excuse."
Even schools that make a point of celebrating King's life around the national holiday held in his honor might not pay the same attention to examining the impact of the leader's pursuit of racial justice in a classroom setting. King's achievements, including his successful protests of race-based legal discrimination in the U.S. during the 1960s, are often taught in elementary school and are rarely examined in any depth after that point, said Tariq Otuemhobe, 17, a junior at James Bowie High School in Arlington, Texas, which holds a number of events to commemorate MLK Day, including an annual step show competition and an art contest. "We definitely don't learn about him and the movement as much in high school," he said.
New York is one of many cities nationwide that have seen protests in recent months in the wake of high profile incidents of police brutality against unarmed African-American men. The decisions of grand juries in New York and St. Louis County, Missouri, not to indict the police officers responsible for the deaths of Eric Garner and Michael Brown have reignited conversations around racial inequality and systemic forms of discrimination against black communities in the U.S.
"A lot of my students come in thinking that the civil rights movement started in 1961 and ended in 1964, or the late '60s," said Patrick Sprinkle, a U.S. history and government teacher at the Lab School in New York. Part of this is because New York City's official social studies curriculum doesn't really "mention or emphasize" applications of the civil rights struggle to contemporary racial issues, Sprinkle said.
It is thus often left up to individual teachers to take the initiative to broaden King's legacy and bring it to the present day. "Anytime you can connect it to the modern day, you see the lightbulb go off," Sprinkle said. "It's an essential component to make sure our young people are cognizant of the challenges facing our modern age, such as stop and frisk, educational inequality and police brutality."
These discussions have made their way into other classrooms across the country, said Otuemhobe, who pointed to a recent example of his classmates using an Advanced Placement English assignment about news articles to create a forum to discuss the Brown case. Brown's shooting in Ferguson at the hands of a white police officer sparked a passionate classroom discussion about contemporary racial politics -- but students have often been the ones to initiate those conversations in class, he said. "Actually being a black male in high school, you hear these kinds of racial things all the time, but now it's really like it's getting worse," said Otuemhobe, who said he saw the "Black Lives Matter" protests as a continuation of King's social movement. "This is the evolution of our revolution back then."
Activists have also made a push to link the legacy of King's civil rights struggle with the current protests. A coalition of community groups in Philadelphia planned to take to the streets Monday to protest the deaths of Garner and Brown in King's name. "I absolutely believe that the Dr. King of history, as opposed to the mass-marketed Dr. King, would be on the side of those who want justice for Mike Brown and Eric Garner," the Rev. Mark Tyler, an organizer of the march told the Philadelphia Daily News.
But for many young people, the link between King's struggle and contemporary politics remains elusive, at best. Stern said while working at a children's day camp in Brooklyn during the summer, she overheard a conversation among students in the 5th and 6th grade who said "racism doesn't exist anymore." She attributed this attitude to schools teaching civil rights as a "finished issue." "The movement is being taught as the solution to a problem that once existed," she said. "A lot of that mentality is that 'things aren't as bad as they were so why complain about it? Let's show some respect for [King] but let's not worry about it too much.'"
FOR FREE to continue reading
✔️ Unlock the full content of International Business Times UK for free
offer available for a limited time only
✔️ Easily manage your Newsletters subscriptions and save your favourite articles
✔️ No payment method required
Already have an account? Log in
© Copyright IBTimes 2023. All rights reserved.