MLK NBA Games: How To Watch Lakers, Warriors, Nets, Knicks
Only Christmas ranks higher than Martin Luther King Day in terms of banner days for the NBA regular-season schedule. Ten games are set to be played Monday, including five nationally televised broadcasts that feature some of the league's top contenders.
The best MLK games will be played in primetime. The Milwaukee Bucks visit the new-look Brooklyn Nets at 7:30 p.m. EST. The defending champion Los Angeles Lakers host the Golden State Warriors at 10 p.m. EST.
Viewers can watch both games on TNT, through TNT's website or with the TNT app.
Milwaukee and Brooklyn are considered to be the two best teams in the East. Back-to-back MVP Giannis Antetokounmpo has led the Bucks to the conference's best record in each of the last two seasons, and he could be poised to do so again in 2021. Following last week's blockbuster trade, an argument can be made that Antetokounmpo is only the East's third-best player.
The Nets acquired James Harden from the Houston Rockets, going all-in in pursuit of a title. Harden has won three straight scoring titles, and Durant is back to looking like the league's top player behind only LeBron James. It will be fascinating to see how Harden, Durant and eventually Kyrie Irving play together.
No two superstars in recent history have gelled together as perfectly as LeBron James and Anthony Davis. The duo has picked up where they left off in the bubble. The Lakers appear to be far and away the NBA's best team.
When the Lakers reached the 2020 NBA Finals, they ended the Warriors' streak of five straight West championships. The Warriors might no longer be a title contender, but Stephen Curry is reminding the league why he is a two-time MVP.
The Phoenix Suns visit the Memphis Grizzlies at 5 p.m. EST in TNT's first game of the day. Phoenix has been the West's most surprising team in the early part of the year after trading for Chris Paul in the offseason.
The Orlando Magic visit the New York Knicks on NBATV at noon EST to start the MLK basketball action. The Minnesota Timberwolves visit the Atlanta Hawks at 2:30 p.m. EST on NBATV.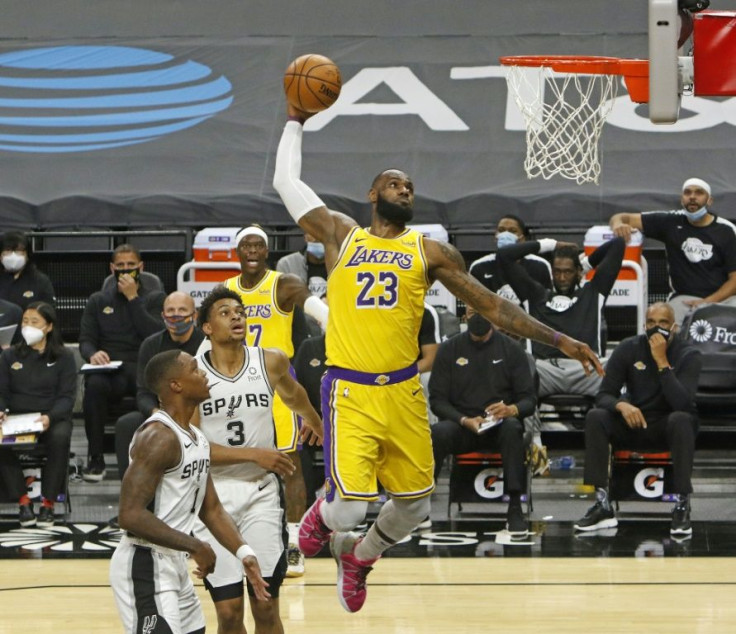 © Copyright IBTimes 2023. All rights reserved.