MMA News: Ex-UFC Champion Undergoes Successful Surgery After Incurring Horrible Injury
KEY POINTS
Chris Weidman is doing well after undergoing surgery
No clarity on whether Weidman can return to the UFC
Anderson Silva sends a classy response to Weidman after his horrific injury
Former UFC middleweight champion Chris Wiedman underwent surgery after breaking his leg in a fight when he faced Uriah Hall at UFC 261 this weekend.
The 36-year-old suffered a disturbing compound fracture just 17 seconds into the bout.
Weidman was taken out on a stretcher after the incident, writhing in pain after throwing a right leg kick that was checked by Hall.
The fight was waived off with the former champion rushed to the hospital. After being stabilized, he was prepared for surgery on Sunday.
Based on the update given by his wife, Marivi Weidman, the operation was a success and he is now on track to recovery.
"While this absolutely sucks in the moment and for some weeks to come, we are completely overwhelmed by the love and support we have far and wide and are very aware how blessed we are. All of that overpowers the awfulness of this situation. We are blown away by our friends and family offering to hop on flights to come help us without hesitation. We are so grateful," part of the statement from Mariiv read.
Weidman has yet to issue an official statement of his own although that could follow in the coming days.
The good news is that he is now stable and smiling again. However, there are now concerns on whether he can return to the UFC.
UFC president Dana White alluded to the possibility that this might not be something the former middleweight champion can come back from.
There are several factors to consider such as the fact that Weidman will be turning 37 in June. Regardless, other stars have managed to defy the odds and make a return to the cage.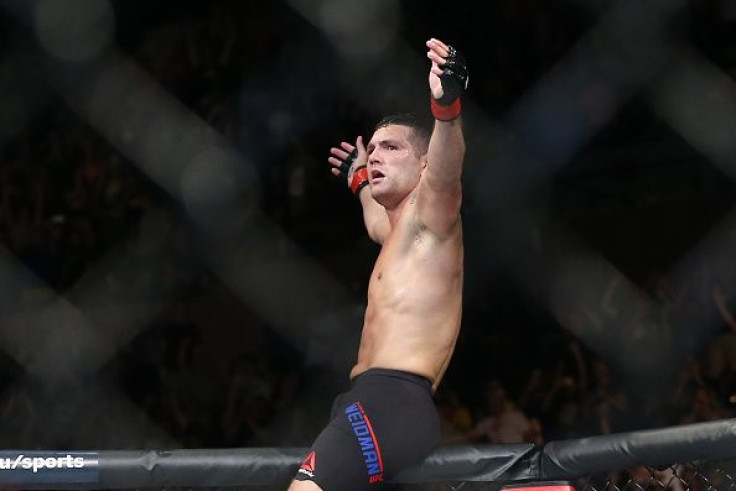 The horrific incident also happened to another mixed martial artist in December 2013. At that time, it was Anderson "The Spider" Silva who suffered a broken leg when his kick was checked by Weidman who was defending the middleweight title in a rematch.
Silva was one of the MMA fans watching UFC 261 last Saturday and sent a classy message of his own to Weidman.
"My deepest and most sincere sentiments champ. Have faith, I wish you a speedy recovery. In this moment I wish you and your family light, love and knowledge. To the fans of the sport, please respect this moment of this incredible warrior and let's wish that he is 100% very recovered soon. May God bless you and your family," Silva posted on his Instagram account.
© Copyright IBTimes 2023. All rights reserved.