Monday Night Football Announcers: Who Will Replace Jon Gruden? Peyton Manning Favored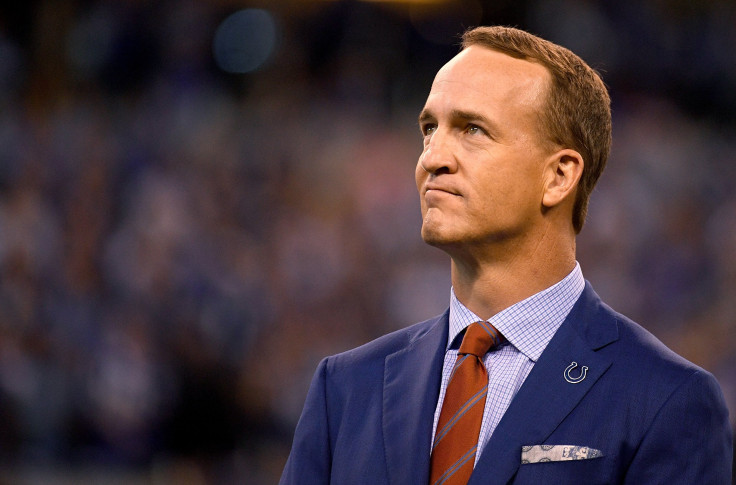 Now that Jon Gruden has officially been hired as the head coach of the Oakland Raiders, ESPN must find his replacement in the "Monday Night Football" booth. Gruden was the game's color commentator for nine years, and he spent the last two alongside play-by-play announcer Sean McDonough.
The network hasn't indicated who will take Gruden's spot, but that hasn't stopped betting websites from creating odds regarding a potential replacement. Future Hall-of-Fame quarterback Peyton Manning has been named as the early favorite by Bovada.lv.
Two years after his retirement, the quarterback seems like the perfect candidate to make an outstanding color commentator. Not only is he one of the most brilliant football minds in recent years, but he's shown that he has the personality to do the job by hosting "Saturday Night Live" and his work in countless commercials.
The success that Tony Romo has had in his first year with CBS might also encourage ESPN to go after Manning. Just a few months after his NFL career ended, Romo became CBS's lead analyst and has received overwhelmingly positive reviews for his work.
The biggest question is whether or not Manning wants to step inside the booth. The former Denver Broncos and Indianapolis Colts quarterback reportedly turned down offers to work in TV last year.
A more likely option might be a quarterback that already works for ESPN as an in-studio analyst. Of those options, Steve Young has the best odds, followed by Matt Hasselbeck.
Kurt Warner has the second-best odds, though the Super Bowl winning quarterback currently works for NFL Network. He's tied with current ESPN analyst and ex-NFL safety Louis Riddick, who recently interviewed to be the New York Giants' general manager.
Eli Manning has been named as a potential replacement for Gruden, though that doesn't seem to be a likely scenario. Manning is still under contract to play for the Giants in the 2018 season.
Who will replace Jon Gruden on "Monday Night Football" for Week 1 of the 2018 Regular Season?
Peyton Manning 12/5
Louis Riddick 4/1
Kurt Warner 4/1
Steve Young 5/1
Randy Moss 7/1
Matt Hasselbeck 8/1
Rex Ryan 9/1
Tim Tebow 9/1
Eli Manning 20/1
Boomer Esiason 20/1
© Copyright IBTimes 2023. All rights reserved.