Monday Night Football Schedule 2015: Dates, TV Channels, Starts For Entire NFL Season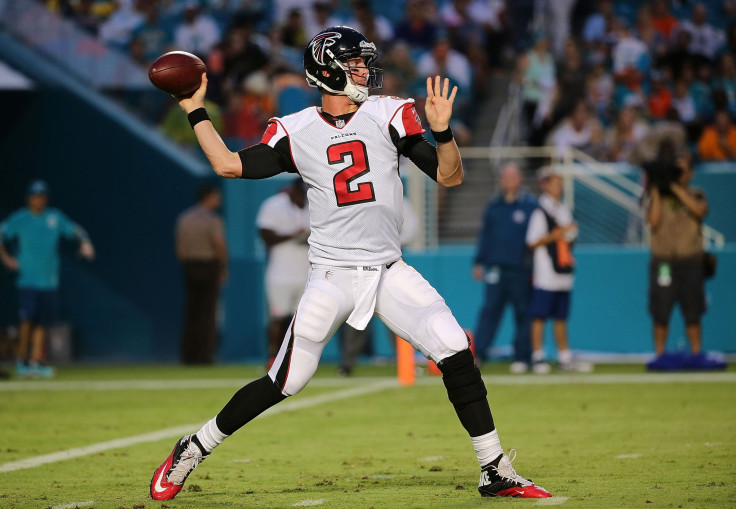 The new NFL season also marks the return of "Monday Night Football" beginning with a Sept. 14 doubleheader of the Atlanta Falcons hosting the Philadelphia Eagles and the Minnesota Vikings traveling to face the San Francisco 49ers. Dating back to 1970, MNF has become synonymous with football culture in the United States and stands as one of the few nationally broadcasted sports programs on prime time television.
This season there are several high-profile and intriguing matchups for viewers. On Sept. 28, the high-scoring Green Bay Packers take on the defensive juggernaut Kansas City Chiefs, the New York Giants and Eagles will duel for NFC East supremacy on Oct. 19, followed by the Baltimore Ravens and Arizona Cardinals the following week, and the Cincinnati Bengals traveling to Mile High to face the Denver Broncos in the season finale.
The Giants will appear on the broadcast twice this season, as will the Bengals, Ravens, Indianapolis Colts, Detroit Lions, and San Diego Chargers.
However, several teams didn't make the prime-time cut, with the Jacksonville Jaguars, Oakland Raiders, St. Louis Rams, Tampa Bay Buccaneers, and Tennessee Titans all left out.
Here's the full schedule with dates and times, and every game will be aired by ESPN. With the exception of next Monday's double-header, all games will start at 8:30 p.m. ET.
Week 1, September 14
Philadelphia Eagles at Atlanta Falcons, 7:10 p.m. ET
Minnesota Vikings at San Francisco 49ers, 10:20 p.m. ET
Week 2 September 21
New York Jets at Indianapolis Colts
Week 3 September 28
Kansas City Chiefs at Green Bay Packers
Week 4 October 5
Detroit Lions at Seattle Seahawks
Week 5 October 12
Pittsburgh Steelers at San Diego Chargers
Week 6 October 19
New York Giants at Philadelphia Eagles
Week 7 October 26
Baltimore Ravens at Arizona Cardinals
Week 8 November 2
Indianapolis Colts at Carolina Panthers
Week 9 November 9
Chicago Bears at San Diego Chargers
Week 10 November 16
Houston Texans at Cincinnati Bengals
Week 11 November 23
Buffalo Bills at New England Patriots
Week 12 November 30
Baltimore Ravens at Cleveland Browns
Week 13 December 7
Dallas Cowboys at Washington Redskins
Week 14 December 14
New York Giants at Miami Dolphins
Week 15 December 21
Detroit Lions at New Orleans Saints
Week 16 December 28
Cincinnati Bengals at Denver Broncos
© Copyright IBTimes 2023. All rights reserved.