Montee Ball Cut By Denver Broncos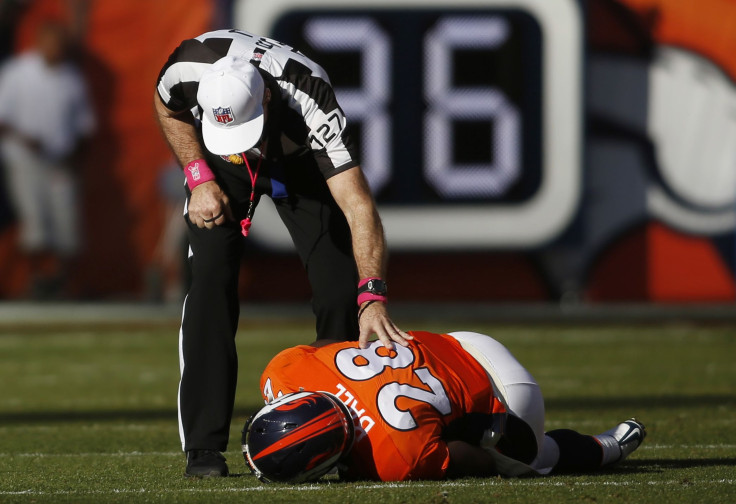 The Denver Broncos are letting go of third-year player Montee Ball, who was named to the 53-man roster less than a day before.
The team officially announced the release of Ball and another player, center Gino Gradkowski Sunday, adding that the team acquired center James Ferentz, previously from the Houston Texans and tight end Mitchell Henry, previously from the Green Bay Packers, off waivers.
Ball, who was a second round pick in the 2013 NFL Draft by the Broncos or the 58th overall selection, had 559 rushing yards on 120 carries with four touchdowns in 16 games in his rookie season.
However, he played in just five games the following year and struggled with a groin injury that caused him to miss most of the season. His production dropped to 172 rushing yards on 55 carries with a lone touchdown the 2014 season.
In his first year in the league, Ball helped the Broncos make the Super Bowl game where he was the second leading rusher for the team. In 3 postseason games, he has registered 98 rushing yards on 28 attempts.
Without Ball, C.J. Anderson, Juwan Thompson and Ronnie Hillman are expected to get time at the RB position for the Broncos.
The Broncos went 3-1 in the preseason games with wins over the Seattle Seahawks (22-20), Houston Texans (14-10) and San Francisco 49ers (19-12) and a loss to the Arizona Cardinals (22-20). Denver opens the season at home against the Baltimore Ravens on Sept. 13.
© Copyright IBTimes 2023. All rights reserved.