More Than 1 Million Catalans Cast Ballot In Symbolic Independence Vote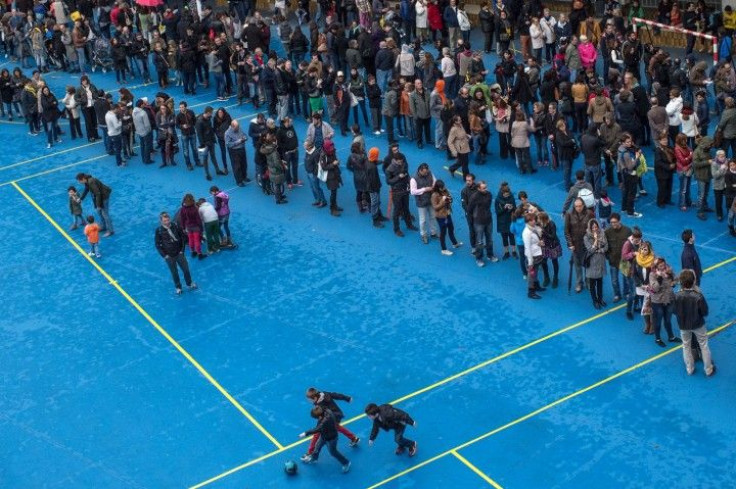 Catalans are voting today in a non-binding poll on whether the region should be independent from Spain.
The Spanish judiciary has ruled the vote nonconstitutional, but Catalan President Artur Mas said that any attempt to disrupt it would be a "direct attack on democracy."
The BBC reports a high turnout at polling stations, with most people surveyed saying they are voting "yes" to independence.
According to the Catalan regional government, as of 1 p.m. local time (11 a.m. GMT), 1.1 million of the 5.4 million eligible voters had cast a ballot. Polling stations were staffed by more than 40,000 volunteers.
The ballot asks voters two questions: should Catalonia be a state, and if so, should it be independent.
Polls show that a majority of Catalans want a full independence referendum and half would vote "yes" to independence if it was held.
"I voted for independence because I've always felt very Catalan," Nuria Silvestre, a 44-year-old teacher, told the Telegraph. "Maybe I wasn't so radical before, but the fact that they are prohibiting (the vote) from Madrid has made me."
Catalonia, a wealthy region of 7.5 million people, contributes more to the Spanish economy than it gets back through central government funds.
Spanish Prime Minister Mariano Rajoy said that the vote would have no effect and urged the region to return to "sanity."
He urged talks "within the legal framework of the constitution" and said the vote would be "neither a referendum nor a consultation nor anything of the sort."
"What is certain is that it will not have any effect," he added.
The Spanish Constitutional Court ordered the vote to be suspended, but Mas insisted it would go forward.
"I don't know what they will do, it does not depend on us," Mas said, "but if they have a minimum of common sense I think any action out of the ordinary would be a direct attack on democracy and a direct attack on fundamental rights."
In 2006, Catalonia adopted a charter giving it nation status, but that was overruled by the Spanish Constitutional Court.
Pro-independence campaigners hope that the symbolic vote will pave the way for more autonomy on taxation and other issues and put pressure on Madrid to allow a full independence referendum.
© Copyright IBTimes 2023. All rights reserved.