Mosul Offensive Against ISIS: Iraqi Forces Pause Advancement After Massive Operation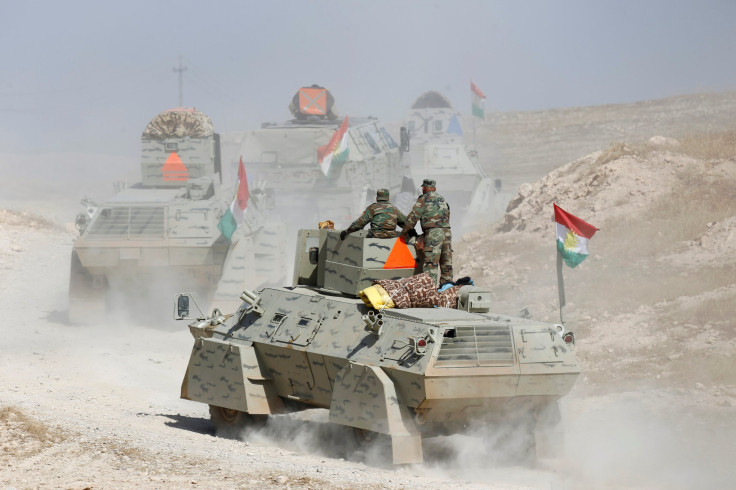 Iraqi forces on Tuesday paused their advancement on the Islamic State-held city of Mosul after request from Kurdish forces for more time to achieve their objectives, authorities reportedly said. The Iraqi army and Kurdish Peshmerga forces launched a massive offensive late Sunday to retake Mosul, which was captured by ISIS in June 2014, before taking control of much of northern and western Iraq.
The offensive was carried out by a coalition of about 30,000 Iraqi security personnel, Kurdish Peshmerga fighters, Sunni Arab tribesmen, and Shiite paramilitary forces. The Kurdish forces seized several villages in the first few hours of the operation, and later announced Monday evening that they had achieved all their key objectives, including recapturing about 77 square miles and nine villages in under 24 hours. A significant stretch of the road from the Kurdish city of Irbil to Mosul had also been secured during Monday's operation.
"We are just holding our positions," Col. Khathar Sheikhan, of the Kurdish forces known as the peshmerga, which captured a handful of villages east of Mosul said Monday, adding: "The Iraqi army will now advance past our arenas of control... We have achieved our objectives."
Brig. Gen. Haider Fadhil said his men had planned to move at dawn, but postponed the operation in the oil-rich capital of Nineveh province, the New York Times reported.
While conflicting accounts about the pause of Iraqi and Kurdish forces emerged, a spokesman for the U.S.-led coalition said the operation was proceeding as planned and that Iraqi forces were making "excellent progress."
"There's no pause in efforts to liberate Mosul. Troops are on the move on various axes of advance toward the city," Col. John Dorrian reportedly. "Some commanders have reached their objectives ahead of schedule after encountering light-to-moderate resistance."
Apart from ground strikes, the U.S.-led coalition also carried out airstrikes against ISIS militants in Mosul. Turkish Prime Minsiter Binali Yildirim said Tuesday that its air force has been involved in coalition airstrikes to clear the second largest Iraqi city off ISIS.
Australia's Defense Ministry also said that its soldiers will join Iraqi security forces and the international coalition in the major offensive against ISIS. Australia's six F/A-18 Hornet fighter aircraft, a KC-30A aerial refuelling tanker aircraft and an E-7A Wedgetail twin-engine early warning and control aircraft have been part of the U.S. led-coalition, while 780 soldiers, including 80 special forces troops, have also been deployed.
© Copyright IBTimes 2023. All rights reserved.