Multiple Teams Interested In Recruiting Warriors Big Man During Free Agency
KEY POINTS
Kevon Looney needs to decide on his fate this summer
Looney could stay with the Golden State Warriors
He can take his career to next level if he joins the right team that can exhaust his talent
The Golden State Warriors are savoring yet another NBA title, but the reality is expected to sink in this offseason.
Although the Dubs would love to have most of the players who were part of their 2022 NBA title conquest, some may be left out due to financial constraints. One player who could be lost is Kevon Looney.
Looney will be one of the many interesting free agents this summer, and there are multiple teams interested in the 6-foot-9 cager.
Among the teams mentioned as having an interest in the 30th overall pick of the 2015 NBA Draft are the Charlotte Hornets and Sacramento Kings according to scribe Marc Stein.
Of the two teams, the Kings appear to be a serious contender. For one, Mike Brown will be calling the shots for Sacramento.
With both having worked together with the Warriors, it would make sense for Brown to try and pull strings to get his hands on the 26-year-old center-forward.
As far as the Hornets, it would have made sense has Kenny Atkinson accepted the offer to coach Charlotte.
But with the 55-year-old opting to pass on the job per sources, Looney moving to Charlotte may depend on who calls the shots for next season.
In the 2021-22 season, Looney played in 82 games averaging 6 points, 7.3 rebounds, and two assists in 21.1 minutes of action.
He held fairly similar numbers in the playoffs, norming 5.8 points, 7.6 rebounds, and 2.2 assists in 22 games.
On a stacked roster, the Warriors have relied heavily on their guards and shooting forwards to get the job done.
He is undersized at center for the Warriors although head coach Steve Kerr has been known to turn to a small-ball type of play.
Moving to a new team would be risky for Looney but may make sense if he wants to flourish in his NBA journey.
His success will depend on how well he fits and is utilized by teams interested in him.
It is a gamble on his part. But if he is to take his talent to the next level, it is a decision that he may soon need to make.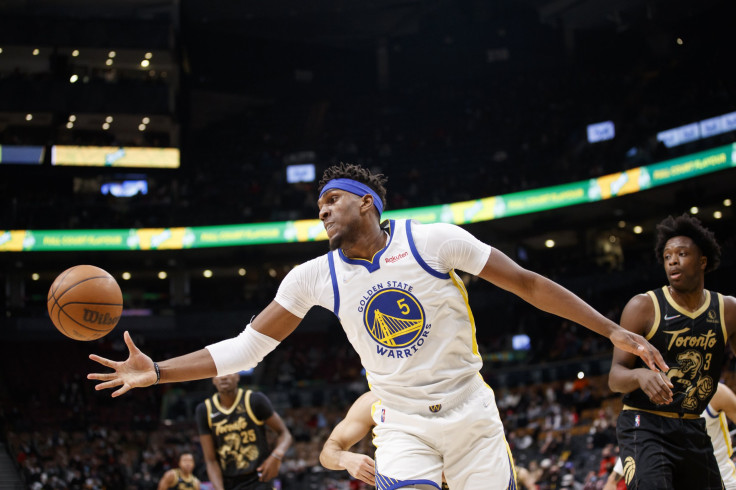 © Copyright IBTimes 2023. All rights reserved.