Myanmar: Aerobics Instructor Films Workout As Military Coup Unfolds Behind Her
KEY POINTS
Khing Hnin Wai later posted other videos and said she has often used that area to film her workouts
She said she was filming the clip for a competition
Military seized power in Myanmar and detained the democratically elected leader Aung San Suu Kyi
Myanmar plunged into uncertainty after the military seized power on Monday, detaining the democratically elected leader Aung San Suu Kyi and imposing a one-year state of emergency. An aerobics instructor, Khing Hnin Wai, unwittingly captured the coup taking place and the video has now gone viral.
In the video, the Naypyidaw-based instructor can be seen doing a dance routine as a convoy of military vehicles passes behind her on the Royal Lotus Roundabout near the country's Parliament.
Myanmar's military overthrew the government on Monday, alleging fraud in the November elections that Suu Kyi's National League for Democracy won.
Khing Hnin Wai also shared the video of her workout on Monday. BBC reported that journalists and disinformation researchers confirmed the authenticity of the video. "I was filming the clip for a competition before the morning's news came out. What a memory!" she was quoted as saying by BBC.
She later posted other videos of her doing workouts at the same spot and said she has often used that area to shoot her fitness routine.
Khing Hnin Wai also said that she wasn't dancing to mock or ridicule any organization or to be silly. "I was dancing for a fitness dance competition."
"As it isn't uncommon for Naypyidaw to have an official convoy, I thought it's normal so I continued," she added, according to BBC.
It turns out that the song Khing Hnin Wai danced to also has significance. Some Indonesian internet users pointed out that the song "Ampun Bang Jago" — by Indonesian duo Tian Storm and Ever Slkr — is about the power struggle between people and authorities, South China Morning Post reported.
The military's coup in Myanmar has sparked global outrage. The U.S. demanded restoration of democracy and President Joe Biden threatened to re-impose sanctions. He also called on the international community to come together and speak "in one voice to press the Burmese military to immediately relinquish the power they have seized."
British Prime Minister Boris Johnson also tweeted that the "vote of the people must be respected and civilian leaders released."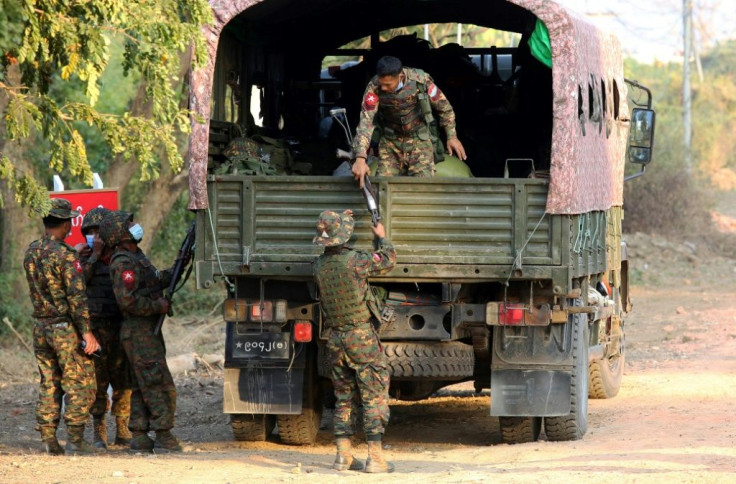 © Copyright IBTimes 2023. All rights reserved.