Myanmar Earthquake Live Updates: Burma Rocked By Magnitude 6.8 Temblor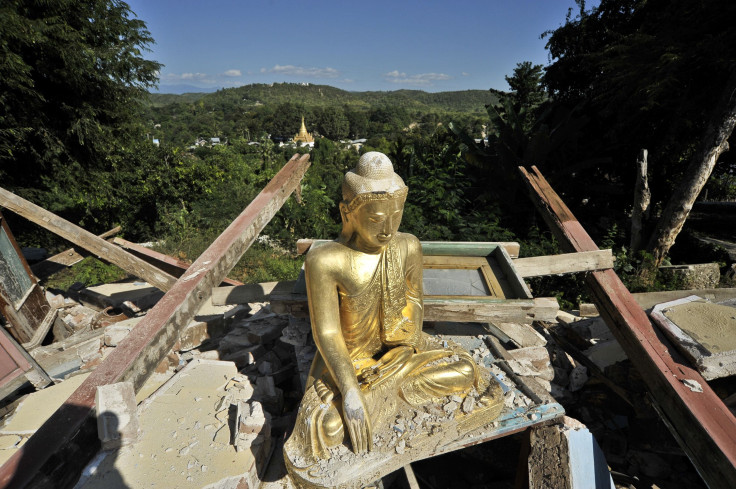 UPDATED: 4:37 p.m. EDT — U.S. Democratic presidential nominee Hillary Clinton on Wednesday afternoon tweeted her support for the victims of the Myanmar earthquake as well as those in Italy, where a magnitude 6.2 earthquake struck hours ahead of the one in the southeast Asian nation.
Clinton's tweet followed one hours earlier from her Republican counterpart Donald Trump. But those two instances were seemingly the only acknowledgement of the disaster in Myanmar from the U.S. politicians.
U.S. Department of State Secretary John Kerry spoke Wednesday with Italian Foreign Minister Paolo Gentiloni and offered his condolences to the Italian people in the aftermath of an earthquake that has claimed at least 120 lives. Kerry "made clear the American people stand with Italians in this difficult time and offered any U.S. assistance that Italy might require," a State Department press release said. "The Secretary pledged to stay in close contact as search, rescue and recovery efforts continue."
It was not immediately clear if Kerry or a spokesperson from the State Department reached out to any officials in Myanmar, where at least four people were reported dead from Wednesday's 6.8 magnitude earthquake that triggered landslides and damaged centuries-old Buddhist temples.
A spokesperson for United Nations Secretary-General Ban Ki-moon also offered condolences to the people of Myanmar and Italy.
UPDATED: 12:18 p.m. EDT — More than 170 Buddhist temples in central Myanmar sustained considerable damage Wednesday after a massive earthquake there triggered multiple landslides, the New York Times reported. The Myanmar Fire Service Department announced that an 18-year-old woman and a 6-year-old girl died in a landslide about 40 miles from the earthquake's epicenter.
Elsewhere, a man died after a tobacco processing plant collapsed. Pakistan TV news outlet SAMAA reported that mas was 22 years old. The death toll was holding steady with at least four people killed.
Social media videos showed the extent of the damage the earthquake — which was felt as far away as Bangkok, Thailand — inflicted on the region.
UPDATED: 12:18 p.m. EDT — More details have been released about some of the fatal victims of Wednesday magnitude 6.8 earthquake that struck Myanmar Wednesday afternoon, local time, Pakistan news channel SAMAA reported. Two girls, a woman and a man were reportedly among those killed in the powerful earthquake.
A 7-year-old and a 15-year-old died in Magway region, which is nearly 100 miles away from the epicenter near the town of Bagan, Myanmar's Ministry of Information said. Bagan is frequented by tourists because of an archaeology site and centuries-old Buddhist temples, of which more than 60 had been considerably damaged in the earthquake.
UPDATED: 11:36 a.m. EDT — Wednesday's 6.8 magnitude earthquake in Myanmar and a deadly earthquake in Italy hours earlier are not related to each other despite the timing of each, a geophysicist has told USA Today. "They are in two completely different seismic zones," John Bellinni of the U.S. Geological Survey said.
The earthquake in central Italy struck shortly after 3:30 a.m. and Myanmar's earthquake hit about 5:30 p.m. the same day, local time.
UPDATED: 10:08 a.m. EDT — At least four people were killed as a result of the 6.8 magnitude earthquake that struck central Myanmar on Wednesday, according to a new report from the Myanmar Times. In addition to the death toll, more details emerged about the status of the country's Buddhist monuments and the damage they sustained from the earthquake.
The earthquake's epicenter was near the town of Chauk, which is nearly 19 miles from Bagan, where the country's most well known archaeological site is as well as more than 2,500 pagodas.
UPDATED: 9:31 a.m. EDT — While no deaths have been officially announced following Wednesday's powerful earthquake in central Myanmar, the Associated Press reported a firefighter in the town of Pakokku said a woman there was killed.
The BBC is reporting the death of a 22-year-old man in that town. The People's Daily China has reported that at least three people were killed from the earthquake.
Nearly 70 brick pagodas whose existences date back centuries were damaged Wednesday afternoon in Myanmar after a 6.8 magnitude earthquake stuck the central part of the southeast Asian country, the Independent reported.
Both the Myanmar Ministry of Religious and Cultural Affairs and the Myanmar Earthquake Committee made the announcement before revealing that may have been the extent of the more serious damage the earthquake caused.
UPDATED: 9:09 a.m. EDT — Residents in Yangon — Myanmar's most populous city — evacuated tall buildings in the midst of Wednesday's magnitude 6.8 earthquake in what the U.S. Geological Survey has called "one of the most seismically hazardous regions on Earth."
UPDATED: 8:45 a.m. EDT — The powerful earthquake that rocked Myanmar Wednesday shook high rise buildings in Thailand's capital city, which is located nearly 800 miles away, the Bangkok Post reported.
"My office is shaking," an unidentified person who works on the 22nd floor of an office building told the Bangkok Post. "All my work colleagues stood up."
However, like in Myanmar, there were no immediate reports of deaths suffered from Wednesday's earthquake. No Thais in Myanmar were apparently injured, either.
UPDATED: 8:28 a.m. EDT — Eyewitnesses to Wednesday's powerful earthquake that shook Myanmar were speaking out following the seismic event that did not immediately leave any deaths. Officials were still surveying the damage, reported Channel News Asia.
"My house shook during the quake. Many people were scared and they ran out of the buildings," local official Maung Maung Kyaw said. "I went outside to check the situation in the town. Some of the buildings are split and nearly collapsed, but I don't see any people affected by the quake."
Other officials were checking pagodas as public transportation in nearby India was brought to a temporary halt, Myanmar Times reported. "Services of the underground railway have been suspended fearing aftershocks of the quake," a railroad spokesperson said in the Indian city of Kolkata.
Original story:
A magnitude 6.8 earthquake rocked central Myanmar Wednesday, according to multiple news reports. The closest city to the earthquake's epicenter is Chauk, which is located more than 15 miles away, the BBC reported. The U.S. Geological Survey reported that the earthquake hit nearly 89 miles west of the city of Meiktila and ran more than 52 miles deep, according to Agence France-Presse.
The southeast Asian country, formerly known as Burma, did not report any immediate cases of casualties or injuries, but the earthquake was powerful enough to have been felt as far as Bangkok, which is nearly 800 miles away, the Associated Press reported.
Photos from various locations across Myanmar were surfacing on social media and showed the extent of the type of damage the roads and structures sustained from the earthquake.
A local elected official told AFP the earthquake and subsequent tremors went on for minutes. "There was also some sound as well. A pagoda collapsed in Salay and a building also collapsed," reported the Guardian.
Scientists predicted last month that a major earthquake could soon strike in a number of places in Asia, including Myanmar along with Bangladesh and India. The lead author of the study that prompted the prediction cited GPS data as evidence.
"Some of us have long suspected this hazard, but we didn't have the data and a model," said Michael Steckler. "Now we have the data and a model, and we can estimate the size."
The last major earthquake to strike Myanmar was earlier this year in April, when a magnitude 6.9 left dozens injured, mostly from being trampled after people were left scurrying for cover.
At least twelve people died in 2012 after a magnitude 6.8 earthquake struck Myanmar — then Burma — destroying homes, schools and other structures such as bridges and even a goldmine, the Associated Press reported at the time.
This is a developing story.
© Copyright IBTimes 2022. All rights reserved.
FOLLOW MORE IBT NEWS ON THE BELOW CHANNELS