Myanmar's Domestic Conglomerates, With Recent Influx Of Foreign Brands, Face Fierce Competition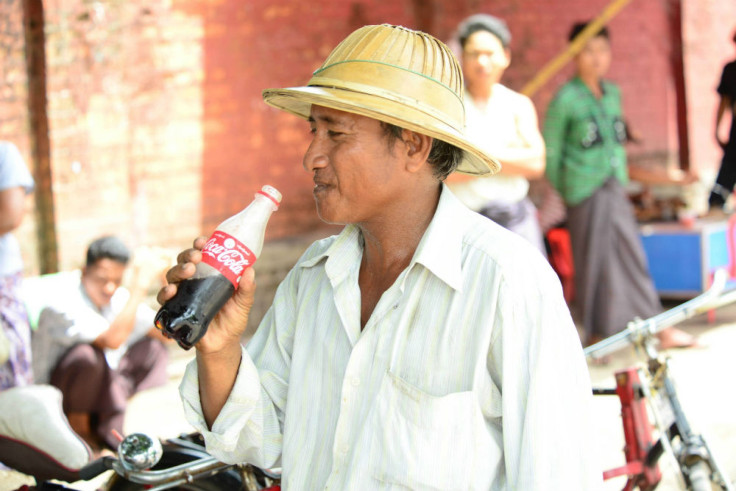 Myanmar's large domestic conglomerates, having survived in the poor and closed-off country after decades of military rule, are now finding themselves in competition with foreign brands that are becoming increasingly popular after the lift of western sanctions.
Since the reform government took over in 2011, Myanmar, one of the poorest countries is Asia, has seen a rapid influx of foreign companies, according to the Wall Street Journal. Major western firms like the Coca-Cola Company (NYSE:KO), Ford Motor Company (NYSE:F) and Pepsi Co, Inc. (NYSE:PEP), have set up operations there and more goods previously unavailable to the 60 million Myanmar people are now in the market place.
This is good news for consumers, but it also means that the nation's biggest conglomerates, who have for decades plugged away at the impoverished market and fought hard to grow despite western sanctions, are now facing stiffer competition than ever.
"It is very tough for us, now that these big multinationals are here," said Sai Sam Htun, chairman of the Loi Hein Group of Cos., one of Myanmar's largest conglomerates, according to the Wall Street Journal. "They have easily taken over in a short time, because they are so powerful and strong."
The group manufactures Star Cola, once the leading cola brand in the country but has since been displaced in terms of market share by Coca-Cola and Pepsi Co. Both American brands entered Myanmar recently, with Coca-Cola pledging to invest $200 million over the next five years, creating 2,500 direct jobs and 22,000 more indirect jobs as a result, and are poised for a new cola wars in one of the last unreached frontiers in the world.
Another worry for local firms is that multinational corporations have regional ties and networks in Southeast Asian countries neighboring Myanmar, particularly in Thailand, which would allow them to quickly engulf local competition.
"No matter how good local companies are, they can't be regional players," said Zaw Moe Khine, owner of pharmaceutical company AA Medical Products Ltd. "Even if we try to be the most professional company here, we cannot compete."
With real estate prices in Yangon, the country's commercial center, now higher than New York City, many small to midsize enterprises are also on the verge of being priced out of their own turf. Annual rents in the city's three 1990s-era towers have climbed to more than $100 per square foot, compared to around $22 per square foot as of the end of 2011 in the same buildings, and less than $75 in downtown Manhattan, according to Bloomberg.
"Capital is easily available to a big multinational, but local companies can't raise finance," said Sean Turnell, an expert on Myanmar's economy at Macquarie University in Sydney, explaining that this capital is crucial for sectors such as manufacturing where costs are driven up by poor infrastructure.
Across Loi Hein Group's five beverage plants, for example, only five hours of electricity are provided by the government power grid, and the conglomerate needs to supplement this unreliable power with its own generators, according to the Wall Street Journal.
But foreign multinationals do not have to represent competition for local firms. Some domestic companies have profited heavily by partnering with foreign companies, offering the latter local know-how in Myanmar's fast-changing business and political landscape. Coca-Cola has partnered with Pinya for its operations, and Loi Hei Group said it plans to announce a joint venture deal with a foreign partner within months.
"Mergers are the best way for us to grow fast," said Htun, the Loi Hein Group chairman. "With this joint venture, we expect that we can grow five or six times in 10 years' time, increasing the number of products we offer. This is a very positive thing."
Services firms are likewise adopting this model. Many law firms, including Rajah & Tann LLP of Singapore, Southeast Asia's biggest law firm, are opening practices in Myanmar with local partners, or employing local attorneys to oversee their Myanmar offices.
Nonetheless, some companies, both foreign and domestic, are wary of the model. Currently, foreign banks are not allowed to provide onshore financing, though joint ventures between these institutions and local banks could be allowed in a few months, according to Maung Maung Thein, Myanmar's deputy minister of finance.
"We wouldn't prefer this model," said Takuya Ito, general manager for Japan's Mizuho Bank Ltd. across Asia and Oceania. "As long as there is a joint venture, you need to have a partner, and the number of private banks in Myanmar is limited."
Allowing foreign banks to operate freely should be a "no-brainer", Turnell said, and would allow the country to leapfrog from decades of stunted development.
"Local companies may lose their market share, but banking is different from other sectors," Turnell added. "It is an enabling industry."
Some local business owners are just as comprehensive to joint ventures.
"For local companies, we either have to be big, or be specialist," Khine said, according to the Wall Street Journal. "There is a risk of failure, but we have no choice. The last option is selling off our companies—but none of us want to do that."
© Copyright IBTimes 2023. All rights reserved.