NADAL: 2011 Wimbledon His For the Taking, or is He Slowed by the Injury? (TENNIS)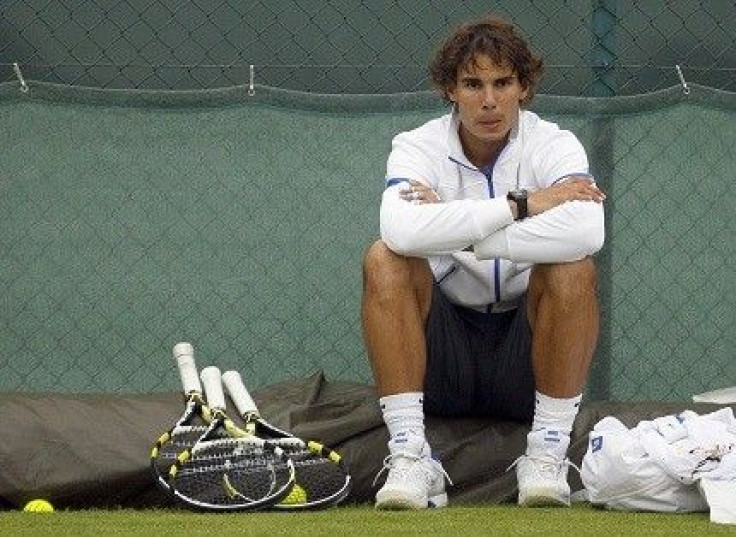 The 2011 Wimbledon Championships has yet to have a major upset, which is certainly no surprise.
Though there are four players with a legitimate chances to win the title, one particular player stands out: Rafael Nadal.
Top-ranked Nadal is searching for his third Wimbledon title and his tenth Grand Slam to cement his legacy as one of the best players of all time, but he is chasing Roger Federer's record of 16 Grand Slam titles.
This tournament in particular will be no cakewalk for the Spaniard. The three players ranked 2-4 in the world: Novak Djokovic, Roger Federer, and Andy Murray have also advanced to the quarter-finals and each could pose a serious challenge to Nadal's title hopes.
Nadal's foot injury in the first set of his fourth-round win against Juan Martin del Potro might slow him down when he plays in the quarter-finals against streaking American Mardy Fish.
Since the beginning of the 2006 Wimbledon, Nadal is 30-2 at the All England Club, with his two losses coming in the 2006 and 2007 Finals against Federer. This year, Nadal won his first three matches in straight sets before the injury slowed him against del Potro, but he still managed a victory despite worrying that he had broken his foot and considered withdrawing from the match.
Nadal has had injuries before, and played through them, but now he's facing a tough challenge.
If Nadal wins against Fish, and Murray defeats quarterfinal opponent Feliciano Lopez, it would set the stage for a rematch of the Australian Open Semi-Finals, which Nadal won in straight sets but was still hard-fought.
At this tournament, however, Murray is playing in front of a hopeful and supportive crowd who want him to become the first British player to win Wimbledon in 75 years.
Nadal may have his hands full when he faces Fish, who is ranked ninth in the world and is playing the best Grand Slam tournament of his career. Fish's service has been unstoppable, and he defeated last year's Wimbledon runner-up Tomas Berdych in straight sets.
Fish has a record on grass of 15-2 over the last two years and for Nadal to have a shot at winning the title he certainly cannot overlook his quarterfinal opponent.
With the top four ranked players in the world all playing in the quarterfinals, the stage has been set for a fascinating finish to the 2011 Wimbledon.
The question is will Nadal be at his best, or are the other stars ready for him.
© Copyright IBTimes 2023. All rights reserved.