NASA, NOAA Satellite Images Show Canary Islands Covered By 'Worst Sandstorm In Decades'
KEY POINTS
The Canary Islands were hit by a particularly severe sandstorm
Satellite images show how the Canary Islands were barely visible under the sandstorm
Some public officials have described it as the worst sandstorm in decades
A sandstorm abruptly started in Africa and affected the Canary Islands on Feb. 22. Visibility was significantly reduced to tens of meters in some places that both air and land travel were greatly affected.
In natural-color images from the Moderate Resolution Imaging Spectroradiometer instrument on NASA's Terra and Aqua satellites, the coast of Morocco can already be seen covered by dust on Feb. 22. In the Feb. 23 image, the Canary Islands, particularly Gran Canaria, Fuerteventura, and Lanzarote, were already barely visible under the thick dust.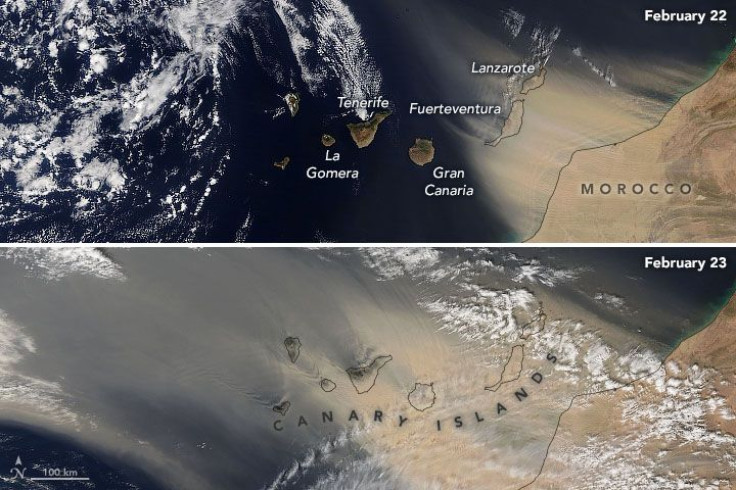 Similarly, NOAA satellite imagery also shows the dust blowing from the Sahara and onto the direction of the Canary Islands, which were barely visible under the thick clouds of brown-yellow dust.
'Worst Sandstorm In Decades'
Because of the strong winds and low visibility, all the airports in the Canary Islands had to be shut down, causing 745 flights to be canceled and 84 others to be rerouted. This led to hundreds to thousands of tourists being trapped in the Canary Islands, leaving them stranded at airports or forced to find hotels.
Some roads also had to be closed down due to poor visibility while schools and universities were closed and people were advised to stay indoors and shut their windows due to the poor air quality.
Unfortunately, the strong winds also fueled the wildfires blazing in Tenerife and Gran Canaria islands, forcing over 2,000 residents to evacuate from their homes.
The sandstorm was so severe that residents have described it as the worst they have seen in their life while some public officials have described it as the worst sandstorm in decades.
As it happens, the sandstorm struck just when the islands were preparing for the carnival season. As a result, several towns have canceled their traditional celebrations and others have already postponed scheduled events.
La Calima
To the residents of the Canary Islands, such events are called La Calima, which is a hot, sand-laden wind that blows out from Morocco and Western Sahara and typically persist for days.
These events are often associated with fog, patchy drizzle and yellow-brown dust that can creep through doors and windows and, cause visibility to plummet. Unfortunately, dust is also problematic for health because it can cause serious respiratory problems.
Although conditions have improved by Feb. 24 and some flights have already resumed, people, particularly those with respiratory conditions or breathing difficulties, are still advised to stay indoors and keep their doors and windows shut.
© Copyright IBTimes 2023. All rights reserved.
FOLLOW MORE IBT NEWS ON THE BELOW CHANNELS