NASA Satellite Image Shows Deadly Flooding In Madagascar
KEY POINTS
Madagascar experienced an abnormal amount of rainfall this January
A new image from NASA's Landsat 8 satellite shows the devastation from the floods
The government of Madagascar has declared a state of emergency
Madagascar experienced torrential rains that caused deadly flooding in the northern parts of the island recently. In a new natural-color image from the Operational Land Imager instrument on the NASA and the United States Geological Survey's (USGS) Landsat 8 satellite, the sediment-filled brown rivers can be seen swelling out of their banks and onto the Helodrano Mahajambe due to the heavy floods.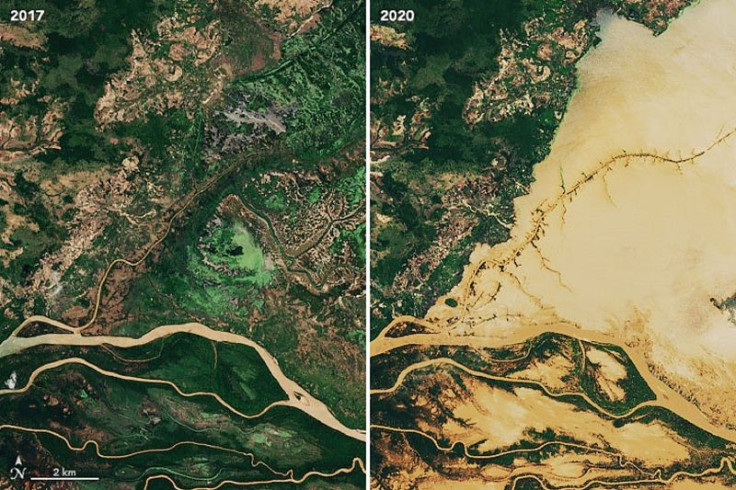 Compared with an image of the same area from Jan. 18, 2017 when the conditions were normal, the new Landsat 8 image shows the widespread devastation brought upon by floods.
On Jan. 28, NASA astronaut Christina Koch also shared photos of the floods taken from the International Space Station.
Abnormal Rainfall
According to Accuweather, the town of Mahajanga experienced 592 millimeters of rain in January, 358 mm of which fell in just a short time from Jan. 19-25. By comparison, the normal rainfall for the month of January in the area is just 292 mm. Similarly, Arrachart experienced 192 mm of rain from Jan. 19-25 and a total of 495 mm of rain for the entirety of January. The normal amount of rainfall for Arrachart in January is just 159 mm.
Because of the abnormal rainfall, towns have been submerged in water, cattle and grain stores have been lost, and over a hundred thousand people have been displaced. The flooding that blocked national roads connecting the affected regions to the rest of the country is also problematic for land-based rescuers, who are left unable to provide relief efforts.
State Of Emergency
Because of the reported floods and landslides in the Alaotra, Analamanga, Boeny, Betsiboka, Mangoro, Melaky and Sofia regions, the government has already declared a state of emergency and appealed for international assistance. The government has also sent helicopters and other vessels to assist the victims, leading the humanitarian response to the disaster.
For now, the people who were affected are still struggling to recover, with many affected fishermen and farmers swimming to their homes to try and rescue some of their belongings.
As of the writing of this article, at least 30 lives have been lost and over 15,000 homes have been flooded or completely destroyed.
© Copyright IBTimes 2023. All rights reserved.