NASA Shares Spooky Horror Posters, 'Sinister' Sounds Of Space For Halloween
KEY POINTS
Apart from being entertaining, the posters reflect real space events
They are all available for free download
The Sound Cloud playlist features "sinister" sounds of space captured by instruments such as the Chandra X-ray Observatory
NASA has already got in the Halloween mood. It has shared some horror posters and eerie sounds of space for the celebration. Unlike some spooky Halloween 'treats', theirs are based on real-space events.
Earlier in the week, the agency shared its latest Galaxy of Horrors posters, this time presenting a dead galaxy, a gamma ray burst and the mysterious dark matter in the form of classic horror movie posters. With titles such as "Galactic Graveyard" and "Gamma Ray Ghouls," the artistic posters truly give out a Halloween vibe.
Even the catchphrases are quite spooky. For the "Dark Matter" poster, for instance, the catchphrase is "something else is out there."
"As fun and creative as all three posters are, they're based on real phenomena," NASA said in a feature about the posters.
The posters are not just spooky drawings but are actually science-based visualizations. For instance, NASA said, the spider and spider web in the "Dark Matter" poster actually pertains to what's called the cosmic web. In the "Galactic Graveyard" poster featuring a dead galaxy, it depicts a reddish star, which NASA said is the type of a long-lived star that remains in such dead galaxies.
"One of the things I really like about these posters is that if you spend some time studying the art and then maybe go learn a little more about each of these topics, you'll see there was a lot of thought by the artists about the choices they made to highlight the science," Jason Rhodes, NASA's JPL astrophysicist, said in the NASA feature.
NASA also shared a Sound Cloud playlist that features "sinister" sounds of space captured by instruments such as the Chandra X-ray Observatory, the Juno spacecraft and the InSight lander.
"You've heard the creaks, cracks, and cackling noises of our universe before. Using data from our spacecraft, our scientists gathered NEW sinister sounds from the depths of space in time for Halloween," NASA said in its SoundCloud playlist. "Listen to our playlist filled with new 'moans' and 'whistles' from our universe that would scare the most ghoulish of creatures."
It includes sounds of Jupiter's auroras based on the signals captured by Juno, sounds of the ancient Universe as captured by the European Space Agency's Planck spacecraft, and sounds from Cassiopeia as captured by the Chandra X-ray Observatory.
NASA's Halloween SoundCloud playlist and the horror posters, also available in Spanish, can all be downloaded for free on the Galaxy of Horrors webpage.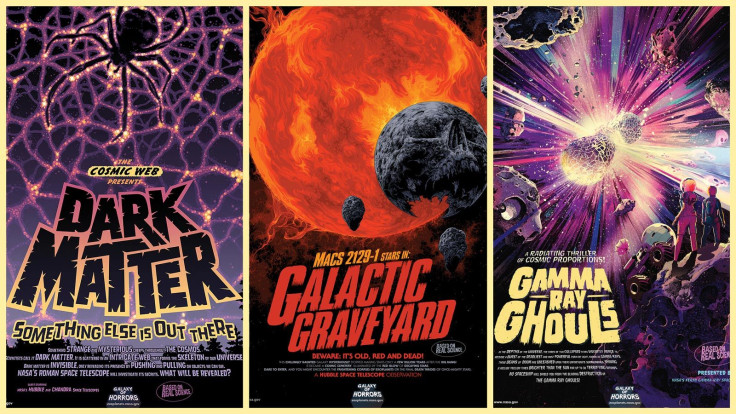 © Copyright IBTimes 2023. All rights reserved.