'Nazi Grandma' Loses Court Appeal, Sentenced To Jail For Holocaust Denial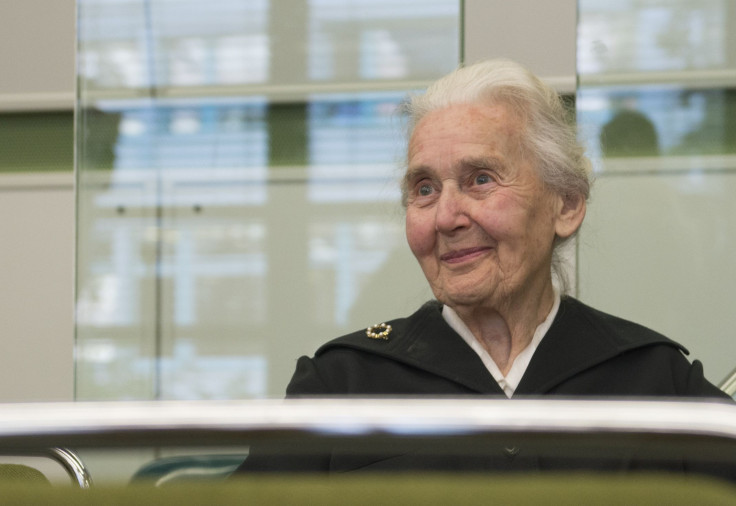 An 89-year-old German woman, dubbed "Nazi Grandma," has lost a court appeal Tuesday, upholding a jail sentence for denying the Holocaust. She had been convicted several times but never served time in jail.
Ursula Haverbeck was sentenced to eight months in prison in September 2016 for sending a letter to the Mayor of Detmold, Germany, that claimed Auschwitz was not a concentration camp, according to German public broadcaster Deutsche Welle Tuesday.
After her initial trial, Haverbeck handed out pamphlets that read "Only the truth will set you free," to journalists, the judge and the prosecutor denying Nazi crimes. Haverbeck was given an additional 10 months for the pamphlets.
A judge upheld the original two rulings, but knocked four months off the total sentence, meaning she faces 14 months of jail time.
Germany has adopted strict laws against denying or downplaying the atrocities committed by the Nazi party. The crime constitutes incitement of racial hatred and carries a penalty up to five years in prison.
More than 6 million Jews were killed during the Holocaust between 1941 and 1945.
Haverbeck's late husband, Werner Georg Haverbeck, was a member of the Nazi party before and during World War II. They founded a right-wing education center together called the Collegium Humanum, but it was banned in 2008. Ursula Haverbeck has also denied the Holocaust in writing she has done for far-right magazine "Voice of the Empire."
Ursula Haverbeck has a history of Holocaust denial and other German crimes related to incitement of racial hatred, according to the BBC. In October she was separately sentenced to a six-month jail sentence for an event in which she claimed the gas chambers at Auschwitz "were not real."
A regional court gave her a two-year sentence in August, but she has appealed all cases against her.
Ursula Haverbeck intends to appeal Tuesday's decision, as well. She will take her case to Higher Regional Court, for a final decision on whether or not she will go to jail.
© Copyright IBTimes 2023. All rights reserved.