NBA: Agent Hopeful Center Will Begin Season With Celtics
Tacko Fall became an instant sensation after he impressed in the NBA Summer League with the Boston Celtics but his long-term future still remains uncertain. The C's have given him an Exhibit 10 contract but he is not guaranteed a place on the roster going into the 2019-20 NBA season.
Fall, who went undrafted, was initially given a non-guaranteed Exhibit 10 contract by the Celtics. He went on to play all five games for the C's in the summer league and impressed by averaging 7.2 points and 1.4 blocks per game while shooting 77 percent from the field.
Celtics general manager Danny Ainge and the rest of the Celtics coaching staff were impressed with the Senegal-born center's game in the summer league. They were keen to reach a deal with Fall and announced his signing earlier this month.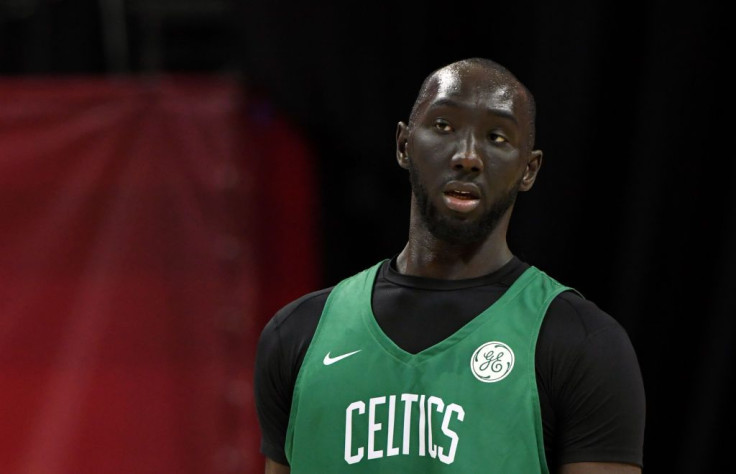 He will begin training camp with the Celtics but is not guaranteed a place on their roster which has one spot remaining. He is desperate to earn his place in the squad for the upcoming campaign and made it clear that he is determined to work hard and earn the final roster spot.
Fall's agent, however, is not too concerned about his client's NBA future and is certain that he won't go unclaimed if the Celtics decide to release him after training camp. He is keen for the 7'6" center to remain long-term in Boston and admitted that the team does have a vision for Fall going forward.
"If the Celtics release him, I don't think he goes unclaimed," Haynes said, according to The Boston Globe's Adam Himmelsbach, as quoted on NESN. "I think somebody will take a shot on him because he's done enough to show he can find a place in the NBA. I'm really hopeful that it's Boston. I hope they find a way, and they do have a vision for him."
© Copyright IBTimes 2023. All rights reserved.