NBA: Bucks Owner Eyes Long-Term Relationship With Giannis Antetokounmpo
The Milwaukee Bucks will push hard for a long-term relationship with Giannis Antetokounmpo.
After a successful run last season, the Bucks have all the reasons to make Antetokounmpo stay for a little longer or maybe, for the rest of his NBA career. Although Antetokounmpo will be a Buck for two more years, Bucks owner Wes Edens wants to ensure that Antetokounmpo will stay in Milwaukee for even a longer period of time.
In a recent interview with TMZ Sports, Edens revealed how deep they want to be in Antetokounmpo's life. According to Edens, Antetokounmpo is not only special inside the court but also as person. Edens also addressed Antetokounmpo's free agency and confirmed that the Bucks are eyeing for a long-term relationship.
"For sure," Edens responded when asked if the Bucks plan to have Antetokounmpo long-time. "He's a special basketball player obviously and he's an even more special person. Obviously, we want to be a part of his life," Edens revealed.
About a week ago, Bucks GM Jon Horst stated that they are planning to offer Antetokounmpo a supermax extension as soon as he becomes eligible. In an interview with Fox Sports, Horst also addressed Antetokounmpo's status in Milwaukee.
According to Horst, the whole Bucks franchise is not allowed to talk or negotiate anything at this point. However, Horst insisted that Bucks will offer Antetokounmpo will be offered a supermax extension regardless of the situation next year.
"First of all, the answer for now is that we can't talk and negotiate anything. So Giannis, basically, a year from now will be eligible for a supermax extension. At that time, of course, he will be offered a supermax extension," Horst said.
Horst also noted that Antetokounmpo wants to compete for the title next season and in return, the team will try to do their best not to make "cost-cutting" moves which could affect Antetokounmpo's drive.
"This is a team that heads into the coming season as a title contender and Antetokoumpo wants to keep the pressure on so the team doesn't make cost-cutting moves that hurt them on the court," Horst noted.
Another factor that Horst's emphasized was Antetokounmpo's "love" for the state of Wisconsin. According to Horst, the 2018-19 NBA Season MVP loves to be in Milwaukee.
"I think we all fully believe that if we continue to put the right things in place and give Giannis the right opportunities. He loves Milwaukee, he loves the state of Wisconsin — I think he'll be a Buck for a long time," Horst emphasized.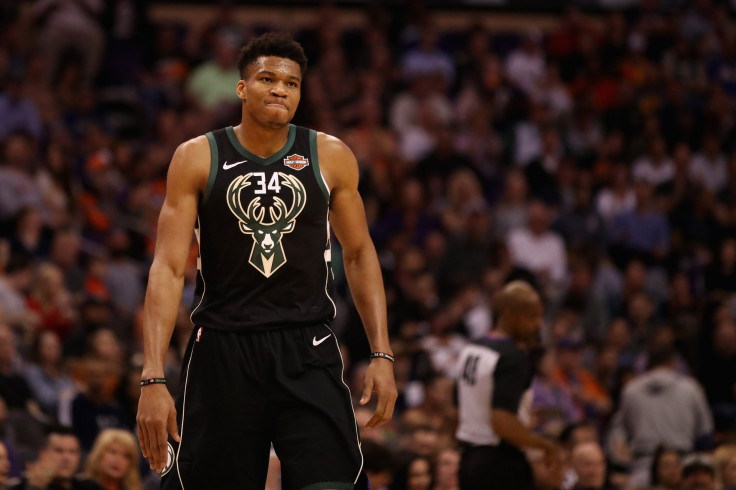 © Copyright IBTimes 2023. All rights reserved.