NBA Finals 2017: LeBron James, Kevin Love, Steve Kerr Comment On Cavaliers Being Heavy Underdogs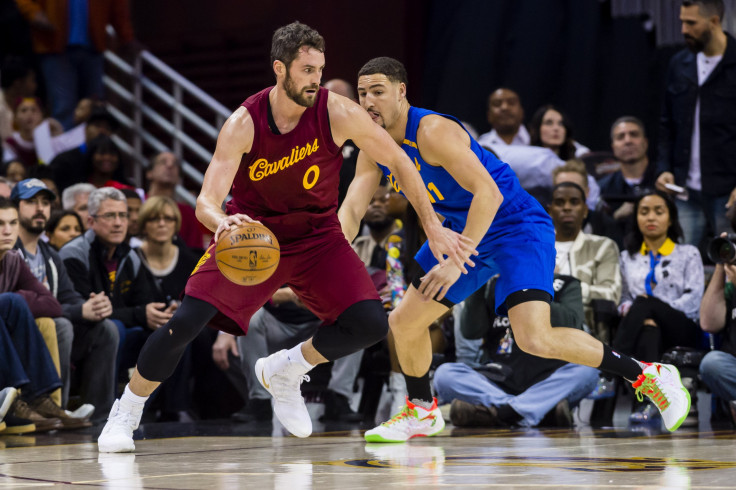 By any measure, the Cleveland Cavaliers are heavy underdogs in the 2017 NBA Finals. The Golden State Warriors are better than 1/2 favorites at Las Vegas and online sportsbooks, and most experts are picking the Western Conference's No.1 seed to win a championship.
It's not hard to see why Golden State is expected by many to win the title, considering how unstoppable they've looked this season with Kevin Durant. However, the notion that LeBron James and the defending champions have only a small chance to end the season on top is a perplexing one to some.
READ: Experts Pick Golden State Over Cleveland In 2017 NBA Finals
"The whole underdog thing is funny to me, because, yeah, at the end of the day we are defending our title," Cavaliers forward Kevin Love told reporters Saturday after Cleveland's practice. "We're trying to repeat, which is so hard to do. I think we will use it as fuel, we will use it as motivation, but the idea of playing into it? It's tough for me to say that is the case. I don't feel like we're underdogs. We match up well with them, and I think they'd say the same about us."
A year after losing to the Cavs in seven games, Warriors head coach Steve Kerr doesn't understand the perception around the series, either.
"They're the champions," Kerr said Monday. "We're not."
"I saw the quote from Kevin Love that he's surprised. I'm surprised, too. What's everybody talking about? They're a great team, they're the champs. We're trying to take what they took from us last year."
It's still unknown if Kerr will be on the bench at any point during the NBA Finals, but he saw firsthand in 2016 that Golden State is vulnerable to an upset. The Warriors were heavy favorites after setting a record with 73 regular-season wins, and no one expected the Cavs to come back when they fell into a 3-1 series hole. In 2015, the Warriors needed six games to defeat Cleveland, even after they took Game 1 and both Love and Kyrie Irving were ruled out for the remainder of the series.
No matter what the betting odds say, LeBron James could put up historic numbers against Golden State. That's what happened in each of the last two years.
With both his two best teammates out with injuries in 2015, James was forced to carry an especially heavy load in the finals. Playing nearly 46 minutes per contest, the three-time champion averaged 35.8 points, 13.3 rebounds and 8.8 assists per game. He was able to take fewer shots and play much more efficiently last year, averaging 29.7 points, 11.3 rebounds and 8.9 assists on 49.4 percent shooting in the 2016 finals.
"I only play blackjack in Vegas anyway, so it doesn't matter," James told reporters, regarding Cleveland's role as an underdog.
Cavaliers head coach Tyronn Lue also seems unconcerned with the current odds.
"We're not going to use that as motivation," Lue said Saturday. "It's like, we're in the NBA Finals. That's enough motivation alone. Not worry about what it says in Vegas or what people are saying about underdogs. We're not using that as an excuse. We've got to come out and play. Our goals were set at the beginning of the season, and that's to win a championship. So that's what we're focused on."
© Copyright IBTimes 2023. All rights reserved.