NBA Finals 2017: Ranking The 10 Best Players On The Cleveland Cavaliers And Golden State Warriors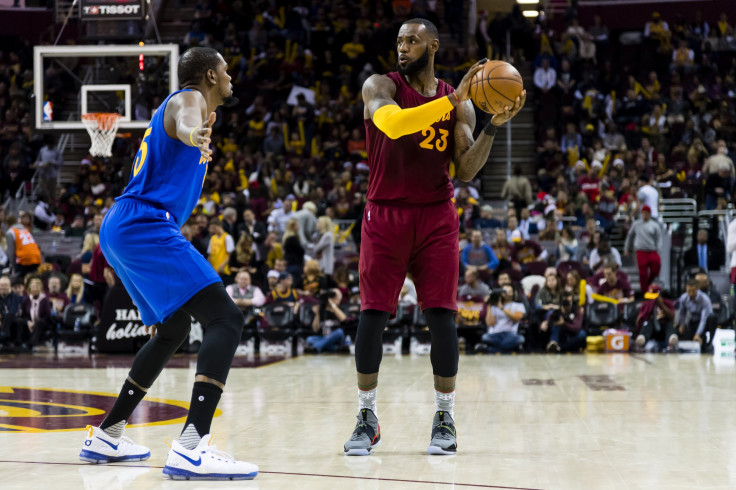 When looking at the rosters of the Golden State Warriors and Cleveland Cavaliers, it's not much of a surprise that they went a combined 24-1 before the 2017 NBA Finals. The series will feature seven All-Stars, all of whom rank among the best players in the league.
LeBron James is universally hailed as the NBA's top player, and Michael Jordan might be the only person in league history that's had a better career. Stephen Curry and Kevin Durant are the winners of the last three MVP awards, while Kyrie Irving and Kevin Love are stars in their own right.
READ: NBA Finals 2017 Game 1 Prediction, Betting Odds
Here's a ranking of the top 10 players in the 2017 NBA Finals:
1) LeBron James
If there was any doubt that James was still the best basketball player in the world, he ended all of it in the first three rounds of the playoffs. James is somehow getting better at 32 years old, and his 32.5 points on 56.6 percent shooting, 8.0 rebounds and 7.0 assists per game give him a postseason stat line that has never been seen before. Golden State has appeared to be unbeatable in the postseason, but James gives Cleveland a real chance to pull off the upset for a second straight year.
2) Kevin Durant
The Warriors are such heavy favorites after losing to the Cavs in 2016 because they added the league's second-best player. As good as Durant was with the Oklahoma City Thunder, he's been even more efficient playing alongside three All-Stars in Golden State, scoring 25.2 points on just 16 shots per game this postseason. But what truly makes him the Warriors' best player is his defense, and his value as a rim protector when the Warriors don't play one of their traditional centers can't be understated.
3) Stephen Curry
When Curry is playing his best, he's the most dynamic scorer in the NBA. He was probably a top-five MVP candidate during a season that some might describe as subpar by his standards, and he's Golden State's leading scorer in the playoffs. Making 4.4 threes per game on 43.1 percent shooting in the playoffs, Curry is a threat to score as soon as he crosses half court. Golden State might have the best offense in league history when both Curry and Durant are lighting it up from the outside.
4) Kyrie Irving
In the regular season, three point guards in the Western Conference played better than Irving. But the postseason is a different ball game, and there are few players in the entire NBA that are more reliable scoring options in crunch time. Whether it was his go-ahead three-pointer in Game 7 of last year's finals or his game-winning shot on Christmas Day, Irving has proven to be as clutch as anyone. He outplayed Curry a year ago, and he comes into this year's finals on fire after averaging 25.8 points on 62.2 percent shooting against the Boston Celtics.
5) Draymond Green
Plenty of people would put Green fourth on this list, and they would have a strong argument to do so. As the most versatile defender in the NBA, he's certainly the best defender in this series. Green is Golden State's No.1 facilitator, and he's shooting 47.2 percent from three-point range this postseason. His rebound and assist totals are both higher than that of James in the playoffs, and he might have been the 2016 NBA Finals MVP if the Warriors didn't blow their 3-1 series lead.
6) Kevin Love
Considering the way he played against the Warriors last year, it's hard to believe Love is ahead of Klay Thompson on this list. He averaged just 7.3 points in 22.6 minutes per game, and it looked like he was headed for the trade block before Cleveland made their historic comeback. Now, Love truly gives the Cavs a formidable "Big 3," finally performing like he did with the Minnesota Timberwolves. He posted a double-double in every Eastern Conference Finals game, and he's shooting 47.5 percent from three-point range this postseason.
7) Klay Thompson
Thompson has unquestionably been the worst of the seven All-Stars this postseason. He's shooting just 38.3 percent from the field and hitting 36.4 percent of his threes. The shooting guard averaged more field goal attempts than points against the San Antonio Spurs, and he has the worst PER of the 37 players that have totaled at least 300 minutes this postseason. Thompson is too good to stay in a shooting slump forever, but he was brutal at times in last year's finals, and there's no guarantee he'll bounce back against the Cavs.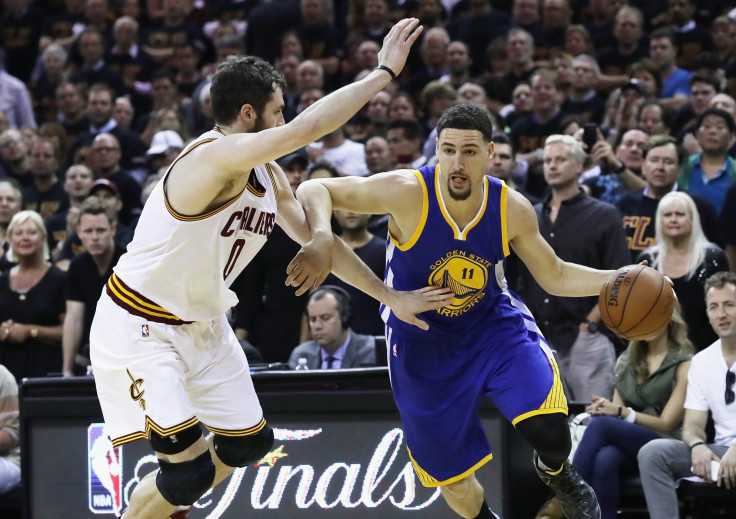 8) Tristan Thompson
Cleveland's starting center is the one standout among the players in the finals that didn't make the All-Star team. Thompson is nearly averaging a double-double with 9.2 points and 9.3 rebounds per game, and he's making 60 percent of his field goal attempts. His work on the glass will be key in giving the Cavs a chance this series, and he grabbed at least 13 rebounds in three of Cleveland's wins over Golden State a year ago.
9) J.R. Smith
Smith's numbers are down from last year, and he probably won't have another 20-point game like he did in Cleveland's first win of the 2016 finals. But he'll play a key role with Kyle Korver as a three-point threat in order to match Golden State's shooting. Shooting 44.9 percent from behind the arc, Smith has helped the Cavs make more three-pointers on a better percentage than the Warriors this postseason. Smith has proven that he can be a good defender when he's engaged on that side of the ball, and he'll be asked to help slow down the Splash Brothers.
10) Andre Iguodala
No one in the NBA is able to stop LeBron James, but few are better than Iguodala at limiting his effectiveness. It's why he was named the 2015 NBA Finals MVP and why he'll be so important in the rubber match. Iguodala has battled a knee injury this postseason, and it's unknown how the injury will affect him in the finals after 10 days off. It has certainly slowed him down thus far, as Iguodala is shooting 11.1 percent from three-point range.
© Copyright IBTimes 2023. All rights reserved.