NBA: Following Celtics Exit, All Eyes Now On Kyrie Irving
With the Boston Celtics now officially out of the NBA playoffs, it comes as no surprise that pundits are trying to speculate about the future of Kyrie Irving. It is no secret that Uncle Drew has been linked to the New York Knicks and the Los Angeles Lakers, although the top pick of the 2011 NBA Draft reiterated that his decision will only be known on July 1.
In what could possibly be his last game as a Celtic, Irving was a far cry from the NBA star most know. He shot six of 21 from the field and finished with 15 points, one assist, and three turnovers -- not exactly what one would expect from someone like him. It was one of his rare worst games, and some believe it could be a sign of things to come, The New York Post reported.
"There's no time to be disappointed,'' Irving said. "You move on. … It's moving on to the next thing and seeing where that ends up.''
But Boston's downfall is not purely because of Irving's woeful series shooting. Head coach Brad Stevens singled out the lack of spirit from within the team and eventually took the blame for the lackluster performance. Now, Bean City will have to brace for possible changes as the Celtics enter a curious offseason where some players may come or go with Irving at the top of the list.
Irving is set to become a free agent on July 1 and the fact that he is a local product further reinforces the likelihood of him moving to Gotham next NBA season. However, the Knicks are not the sole team after the six-time NBA All-Star. The Lakers are the other team linked to the one-time NBA champion, meaning a reunion with LeBron James could also happen.
While he has not mentioned anything, Irving is likely to monitor NBA moves this offseason. The Lakers seem to be in more turmoil than the Knicks with still no head coach at the helm. Most expected Tyronn Lue to be named but talks bogged down earlier in the day, Manila Bulletin Sports reported.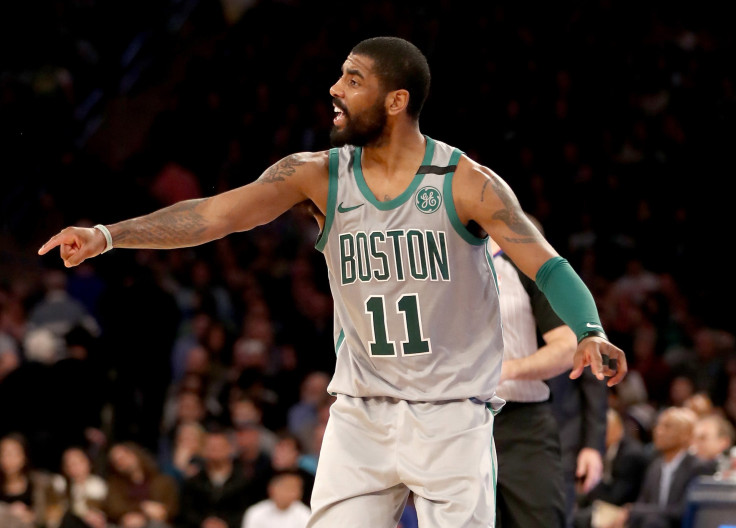 The Knicks, on the other hand, are trying to assemble the best team possible. Irving is likely waiting to see if Durant will make the jump before making any decision. The 27-year-old guard is likely to see which team has better personnel before deciding on where to go.
© Copyright IBTimes 2023. All rights reserved.